Thanks very much for visiting my site.
Laadies and gentlemeeen…everyone…allow me… to introduce the BEST…THINGS… TO DO… in my town…Hiroshima…ta tata tata ta taaaaa!
I think most people agree that Hiroshima is one of the absolute must-visit destinations in Japan.

There are two main attractions in Hiroshima, but there are also lesser-known experiences/places in and around Hiroshima that are equally fascinating.
So…for most non-Japanese, the mere mention of the city's name tends first and foremost to conjure up horrible imaginings of death and destruction, but also the beginning of the end of hostilities of the Second World War.
When you visit, you see that reconstruction produced a modern vibrant city that has chosen not to dwell on the past but to strive ahead for a better future.

And it was rebuilt, pretty much literally from the ground up, thoughtfully, with a well-created, open-spaced, and easy-to-navigate city space.

Now, one more thing, if I may. Let's just cut to the chase – because probably one in five tour guests will raise the question – there is very little (fact – no more than might be detected in the natural world) residual radioactive contamination.

To get back to its attraction.
Hiroshima hosts two registered major World Heritage Sites. The number of visitors since the Peace Memorial Museum opened (pre-pandemic) had reached over one million per year – including numerous visits, by heads of state, foreign dignitaries, political figures, peace activists, and various celebrities or other notable figures.
What is there to do in Hiroshima?
Arguably, the most visited sites are A-Bomb Dome Memorial, Peace Memorial Museum, and the surrounding Peace Park; These two spots collectively observe reverence and at the same time convey a sense of hope rather than despair.
But they are, by no means, not all that Hiroshima has to offer.

The story of the campaign to establish the former Hiroshima Prefectural Industrial Promotion Hall, as a memorial, itself is a story of hope and determination.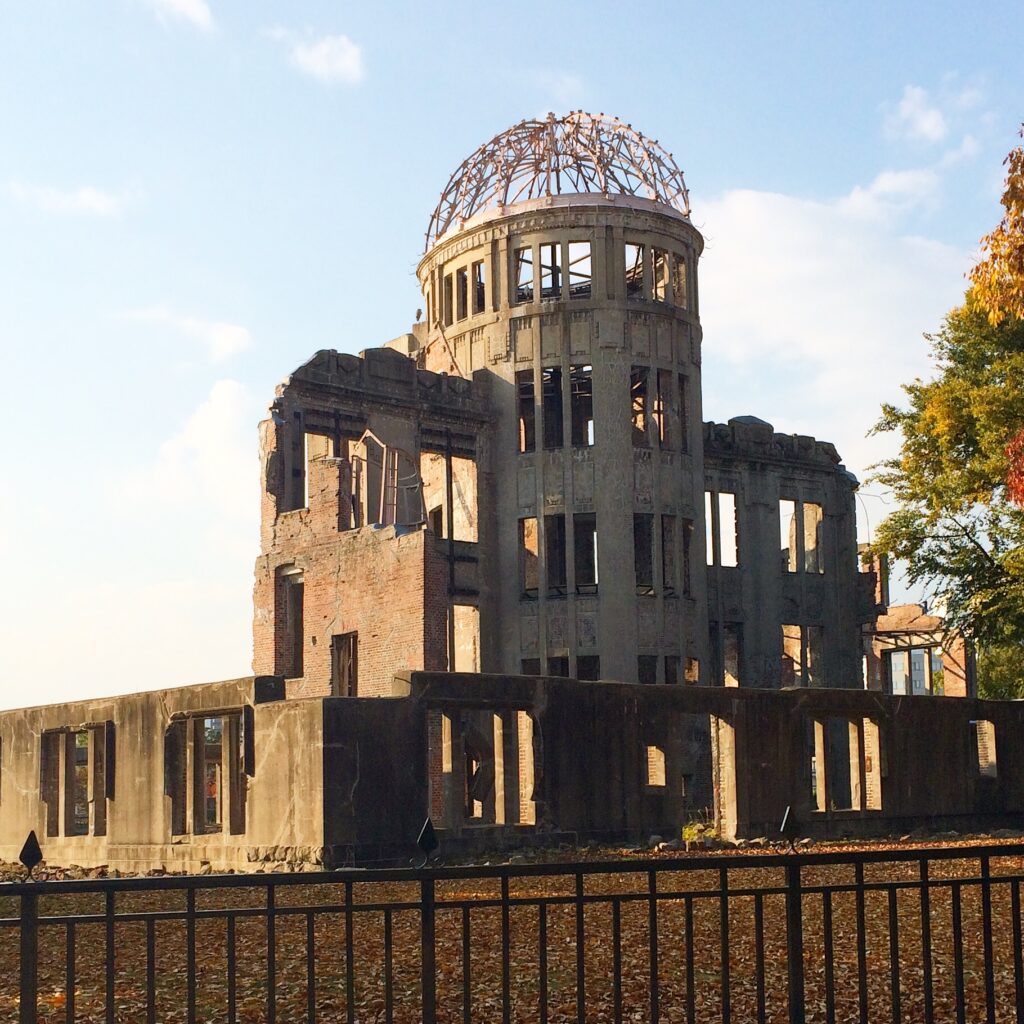 The next most important, and possibly, historically, most visited site by the Japanese, is Miyajima – the famed "shrine island".
Take a leisurely walk through Hiroshima's ancient history, where art created by humankind harmonizes with nature; is home to temples and free-roaming deer, and also shares a direct historical connection to the rise of the samurai class to power.
What to do in Hiroshima for a day?
You can see both Peace Park and Miyajima, and to be honest you can see both in a day but it seems pressed to me, so I might recommend that time allowing breaking it up over two days.

Miyajima is perhaps best known to the Japanese as one of Japan's top 3 views (日本三景 – nihon sankei) – primarily for the illustrious Itsukushima Shrine and its towering sentinel, the vermillion "floating" Great Torii gate.

After passing through the shrine I can recommend spending 15 or 20 minutes at the Treasure House Museum, a small but excellent set of exhibits of feudal age art, costumes, armor, and weaponry.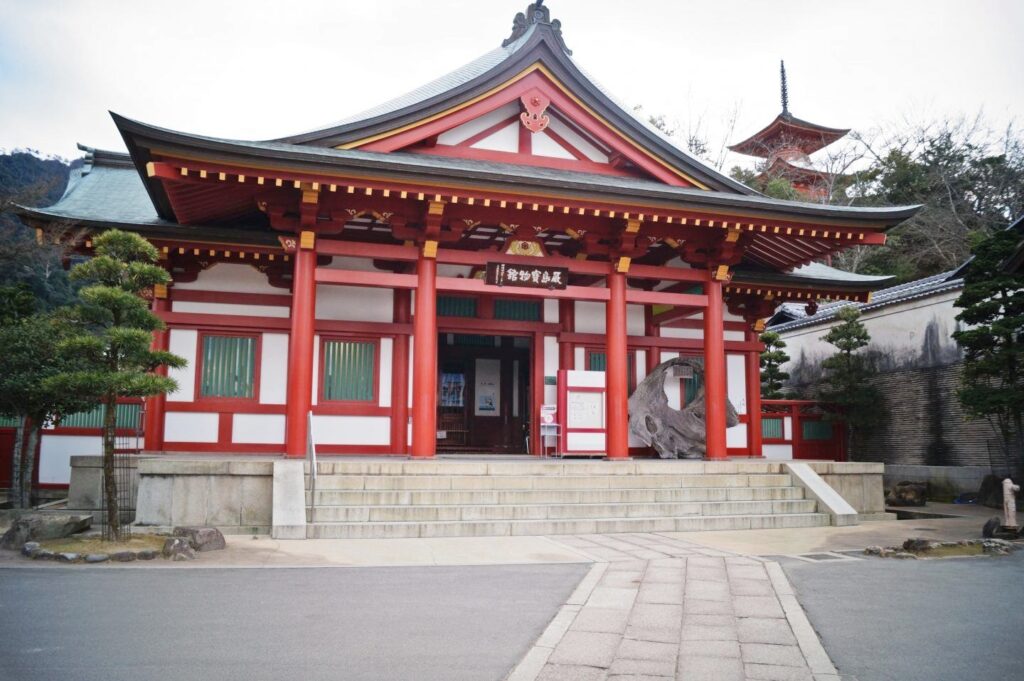 Daishoin Temple with its quiet gardens and various temple buildings and mysterious grotto is really worthwhile – try the mystic dark corridor.
And not to mention the austere, serene atmosphere of ancient Senjokaku accompanied by the Five Storied Pagoda. Fun fact: it might surprise you (or not, perhaps lol) that you will find some of the best coffee in Western Japan here as well!
But there's more!
What to do in Hiroshima for a day?
You can see both Peace Park and Miyajima in a day without rush or pressure.

But many people don't realise there are a whole lot of other great spots to visit:

A stone's throw from the centre of town you will find Shukkei'en Gardens, a wonderful example of a classic Japanese landscaped garden, once the privilege of the lord of the castle.

It was originally located within the castle precincts, but like many of these spaces was handed over to the city for the enjoyment and benefit of all. You might also like to browse the exhibits in the adjacent Prefectural Art Museum.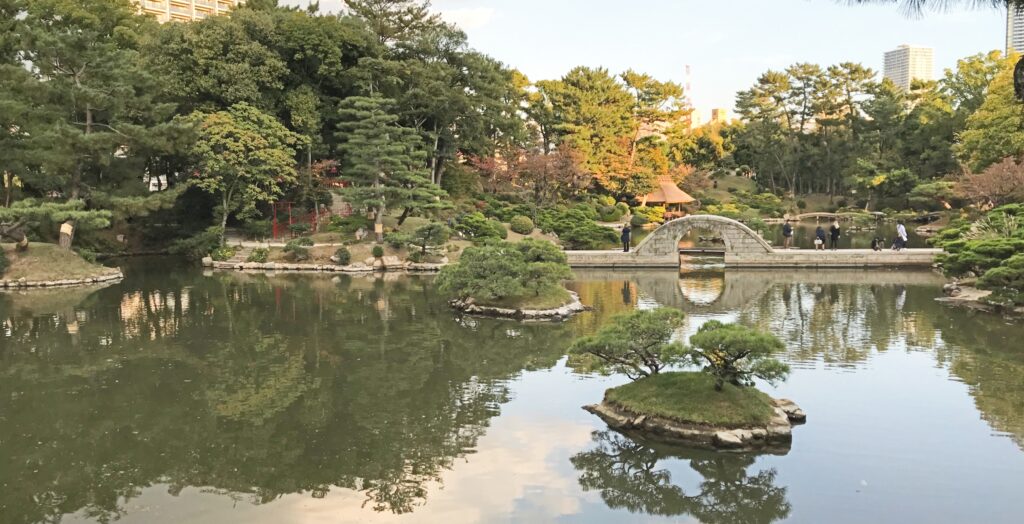 Now, a short walk away from Shukkei'en, is Hiroshima Castle sometimes, called Carp Castle (鯉城 Rijō – the koi/carp is the symbol of Hiroshima).

The original was built by the first feudal overlord of Hiroshima but was destroyed by the atomic blast, and has been beautifully restored.

The present castle was built in 1958 and consists only of the black-colored castle-keep (tenshu) a 26m-high five-story building.

Recently traditionally stylishly refurbished, inside Ninomaru (the long hall at the gate)the keep is a history museum dedicated to the history of Hiroshima, Hiroshima Castle, and information about other Japanese castles.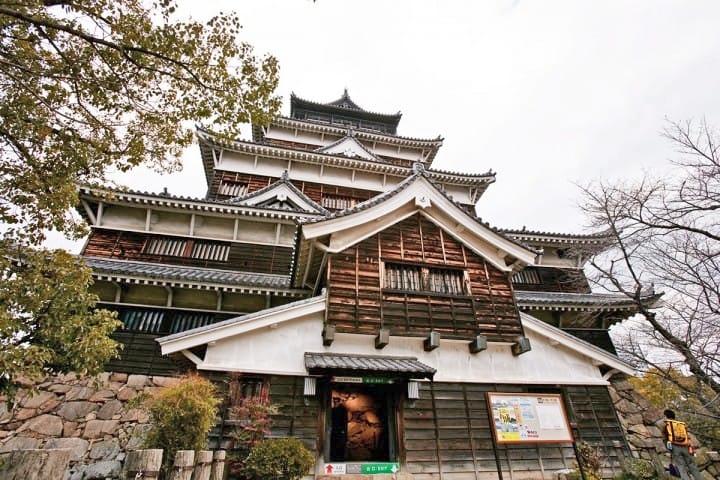 On the city-outskirts is Mitaki-Dera, a true gem of Hiroshima – a beautiful, ethereal yet grounded temple tucked away on a hillside set among beautifully landscaped gardens.

Gastronomically, Hiroshima is famous for its local dish Hiroshima-yaki, a scrumptious kind of as-you-like-it layered savoury pancake cooked on a grill in front of you. I recommend Itsukushima, on the 4th floor, of Okonomimura downtown.
OR better still, but a short bus or tram ride away from the city centre is the excellent Lopez Okonomiyaki, which has been in business for twenty years AND featured on the BBC, and profiled with a whole chapter in Anthony Bourdain's book on Japanese cuisine!

For you oyster connoisseurs, Japanese visitors come from far and wide to sup on its fresh sweet, tender and juicy oysters.
more about these and eating in Hiroshima in my blog: Best things to eat in Hiroshima
But there's more!
Hiroshima has some truly world-class art galleries, a manga library, and great spaces for kids, particularly handy on rainy days.

For sports fans, specifically our friends from the USA, Hiroshima is home to the Hiroshima Toyo Carp, baseball team. This is a team that has a history to rival the struggle of any romantically portrayed underdog, so often featured in Japanese films, and books.
I'd like nothing better than to share my town with you:
Check out my reviews and testimonials and do look at the wonderful described tours for individuals or small groups in my private booked tours
Top 7 things to do in Hiroshima, Japan
• Visit the A-Bomb Memorial and Peace Memorial Park and discover things about Hiroshima's modern history

• Visit the beautiful famed Shrine Island Miyajima, meet a deer, and walk through Hiroshima's ancient history.

• Visit another of Hiroshima's lesser-known ancient gems, Mitaki Temple – a beautiful, ethereal yet grounded temple tucked away on a hillside set among rustic landscaped gardens on the city outskirts

• Make an early morning visit to Toshogu, the shrine dedicated to the founder of the dynasty that ruled the Edo Period – one of Japan's most famous and important historical persons. Later, why not visit the Mazda Museum – perhaps one of the more surprisingly interesting places to visit is the Mazda Museum.

• Take a leisurely stroll through the gardens of another of Hiroshima's lesser-known ancient gems, Mitaki Temple

• Take a trip to Kintaikyo – the elegant, wooden bridge constructed of five bold arches onto massive stone pillars is one of the most distinguished landmarks and a subject of admiration in Western Japan for hundreds of years.

• Take a fascinating tasting tour of one of Japan's four premier and historical Japanese sake brewery districts.

Thanks very much for reading.
I trust you'll find this information helpful in really enjoying your visit to my home in Hiroshima. I'd love the opportunity to share any of the tours I have on offer with you, or to create a bespoke tour for you. Feel free to just reach out to me with any questions I may be able to help you with.
Wishing you a wonderful visit to Japan