KANAZAWA 金沢, 金澤
Kanazawa is a coastal city on the Sea of Japan a few hundred km north of Kyoto and is the capital of Ishikawa Prefecture. And, I dare say, of the places I introduce in these blog posts, Kanazawa is most possibly the least recognisable.
The name "Kanazawa", literally means "marshes of gold". it is said to derive from the legend of a peasant by the name of Imohori Togoro (lit. "Togoro Potato-digger"), who reportedly was digging in the marsh for potatoes when flakes of gold washed up. Bonanza him. Not really.
Despite this resource, perhaps thanks to its remote location, Kanazawa has avoided damage from disasters such as war, and thankfully much of the architecture and culture has remained intact. It's known for well-preserved Edo-era districts, art museums, and regional handicrafts, and is most well known as home to the stunningly beautiful Kenrokuen Garden.
Kenroku-en dates back to the 17th century CE and is celebrated for its classic landscape designs incorporating ponds and streams. It is acknowledged as one of the top 3 Japanese landscaped gardens.
As a historical regional capital, Kanazawa is also what's known as "jōkamachi" (castle town). Kanazawa Castle was established in the 1580s, after the defeat of the "Peasant's Kingdom".
At the end of the 15th century during the warring states period Kanazawa had become the centre of power for the Ikkō sect, a Buddhist sect that opposed the authority of governors or daimyō, had overthrown the old regional governors, the Togashi clan, and established a kind of republic that became known as "The Peasants' Kingdom", and for a time, it became Japan's only ever known Buddhist fiefdom.
Because of its importance for its gold resource, the domain was taken back by force and came under the wing of the shogunate at the end of the 16th century and the thereafter appointed governorship by the Maeda family controlled it until the latter part of the 19th century.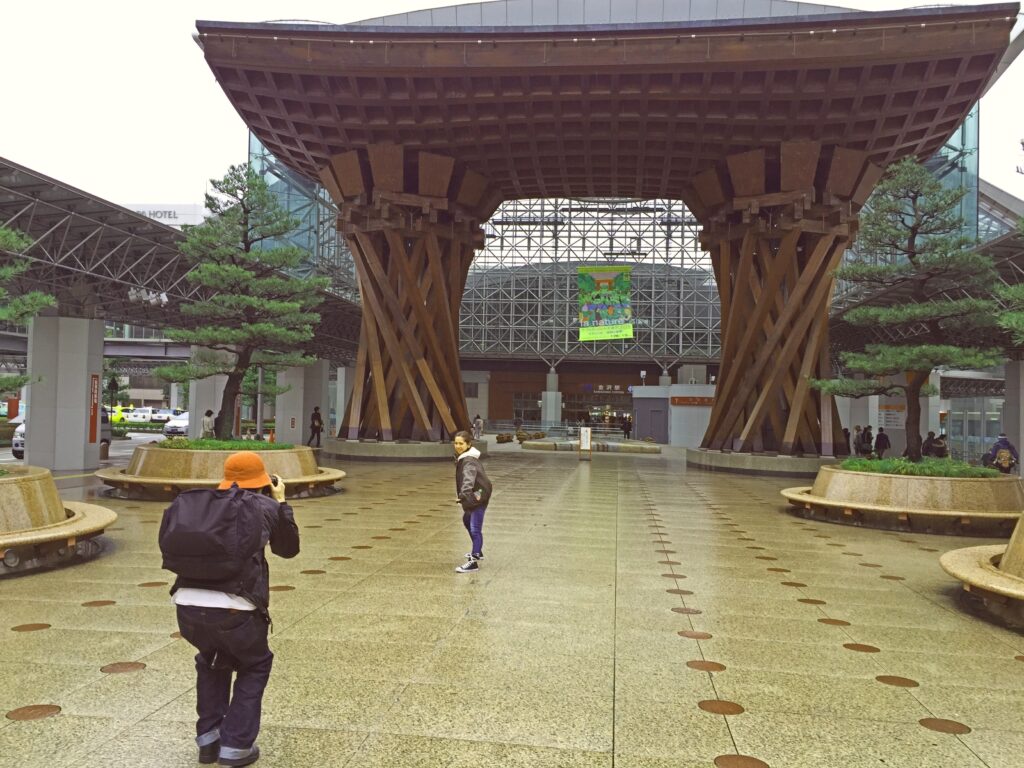 High Culture

.

Perhaps thanks to its resource wealth and Kanazawa historically has been a city of culture and craft. This is palpably evident from the moment you arrive.

Exiting the station concourse take a moment to marvel at the sleek stylish eastern facade. As you head away you pass through the Tsuzumi-mon Gate a modernist rendering of a Torii gate, its pillars modelled after traditional Japanese drums called tsuzumi. The gate's unique style has become a contemporary symbol of Kanazawa.

Indeed, the station has been listed by Travel & Leisure Magazine as one of the "world's most beautiful train stations" and received several awards.

The 21st Century Museum of Contemporary Art building houses several galleries of modern art and is one of the city's chief attractions.

The D. T. Suzuki Museum with its simple, minimalist water garden is an oasis for quiet contemplation.

Old traditional handicrafts such as silk production (it was a centre of local cutting-edge loom technology in the 20th century), kimono dyeing, gold leaf craft, lacquerware, and ceramics are still very much alive today. Noh theatre and tea ceremony are an essential part of the life of the citizens from Kanazawa.

Both the tangible and intangible traditional cultures remain very present to this day. And it's possible to try your hand at the aforementioned craft skills, and more – download this brochure – to enjoy during your visit.
Getting There
Kanazawa is bordered by the Japanese Alps, Hakusan National Park, and Noto Peninsula National Park. I mention this because due to its location, climate-wise, my experience has been that it tends to be rainy 3 days out of 5 but mercifully cooler than Tokyo or Kyoto in summer so keep that in mind planning your visit.
Although in fact more distant from the tourism route than say even Hida-Takayama, it's fairly easy to reach; direct by bullet train or express train:
From Tokyo, Osaka, and Nagoya Station: 2 hr and 30 min
From Kyoto Station: 2 hr 10 min
Kanazawa is chock full of all kinds of fabulous things to see and do: Museums, cultural arts and crafts, fbnatastic food, beautiful, gardens, temples just waiting to capture you How long should you spend there? I think at least one or two nights is perfect. Download the Kanazawa City Sightseeing Map to plan ahead
And here are recommendations to help plan for a fabulous couple of days in Kanazawa:
The best things to do in Kanazawa
KENROKU-EN GARDEN 兼六園
Kenroku-en Is recognized as one of the three most beautiful gardens in Japan. Almost 12 hectares (29 acres) where you can spend two or three hours wandering and visiting a seemingly ever-varying range of landscapes and views. Download a map of the Kenroku-en garden here to help plan and navigate your visit.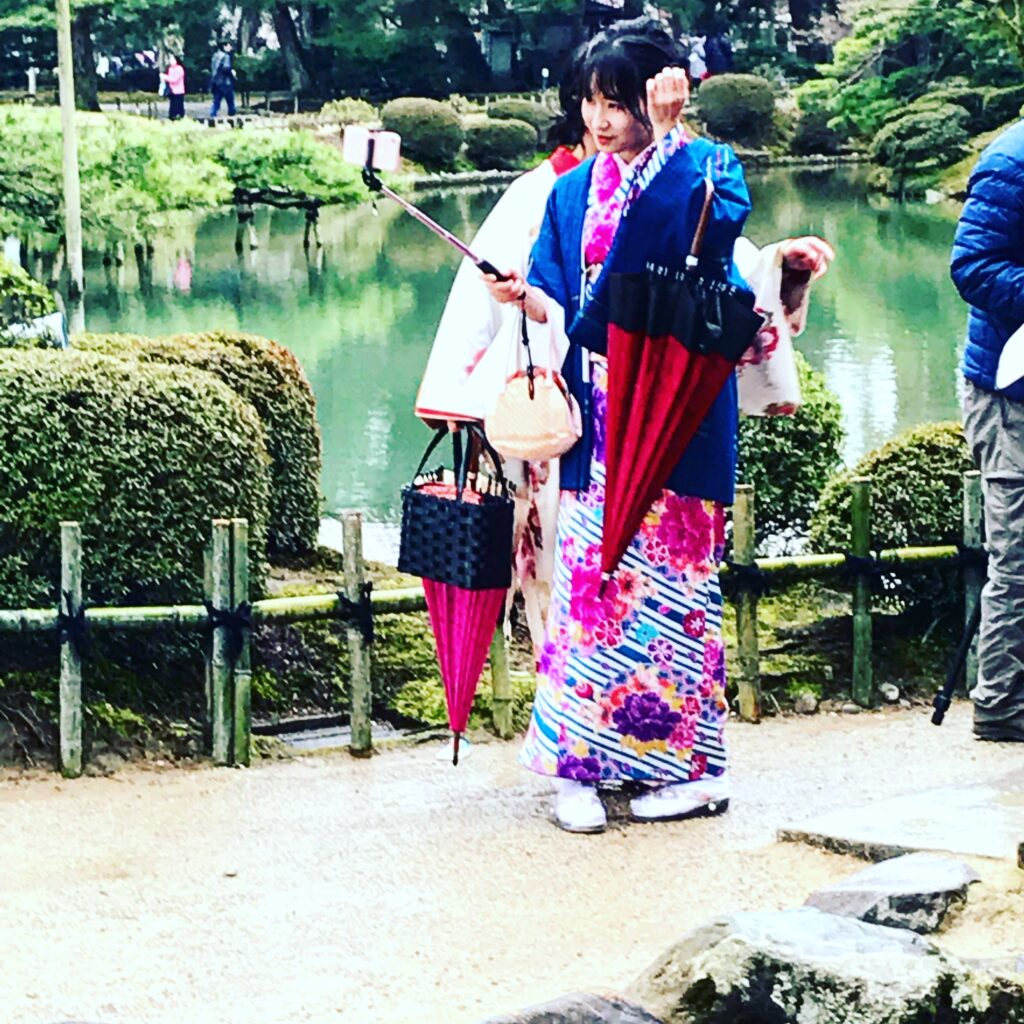 The name KENROKU-EN literally means "Garden of the Six Sublimities". This refers to its combining, according to Chinese landscape theory, the six essential attributes that make up a perfect garden: spaciousness, seclusion, artificiality, antiquity, abundant water courses, broad views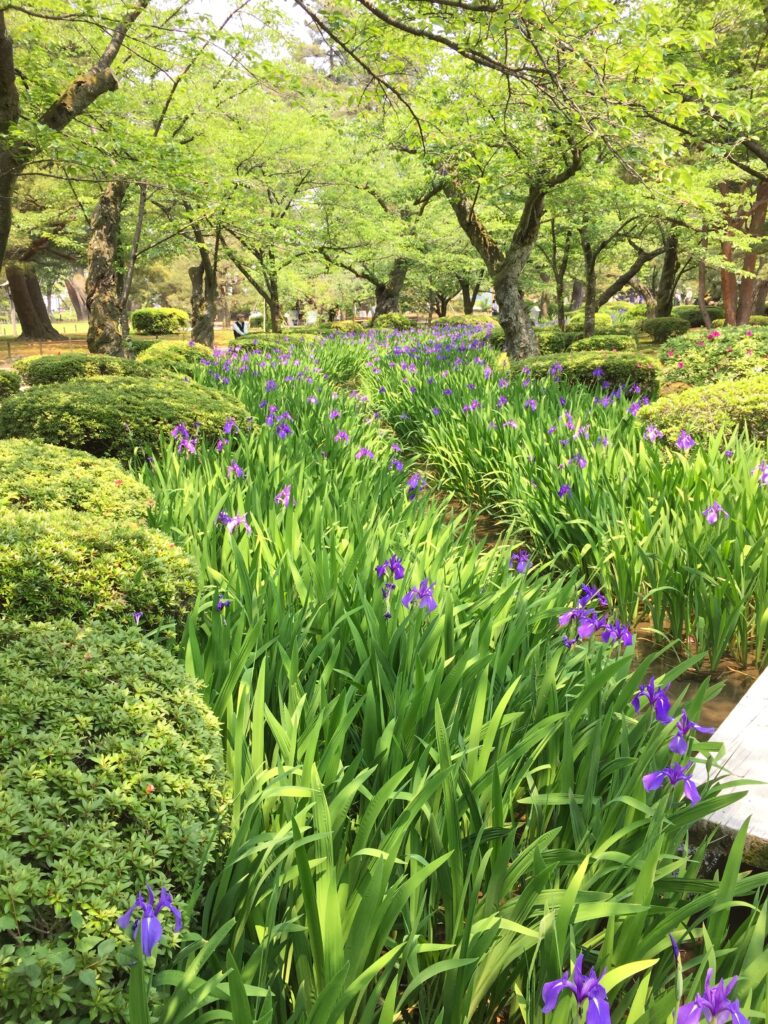 Originally it was the outer garden of Kanazawa Castle and was constructed by the ruling Maeda family over a period of nearly two centuries. It encircles a large pond called "Kasumigaike" which was compared to an open sea and has a small island on which an ageless hermit with miraculous power was believed to live.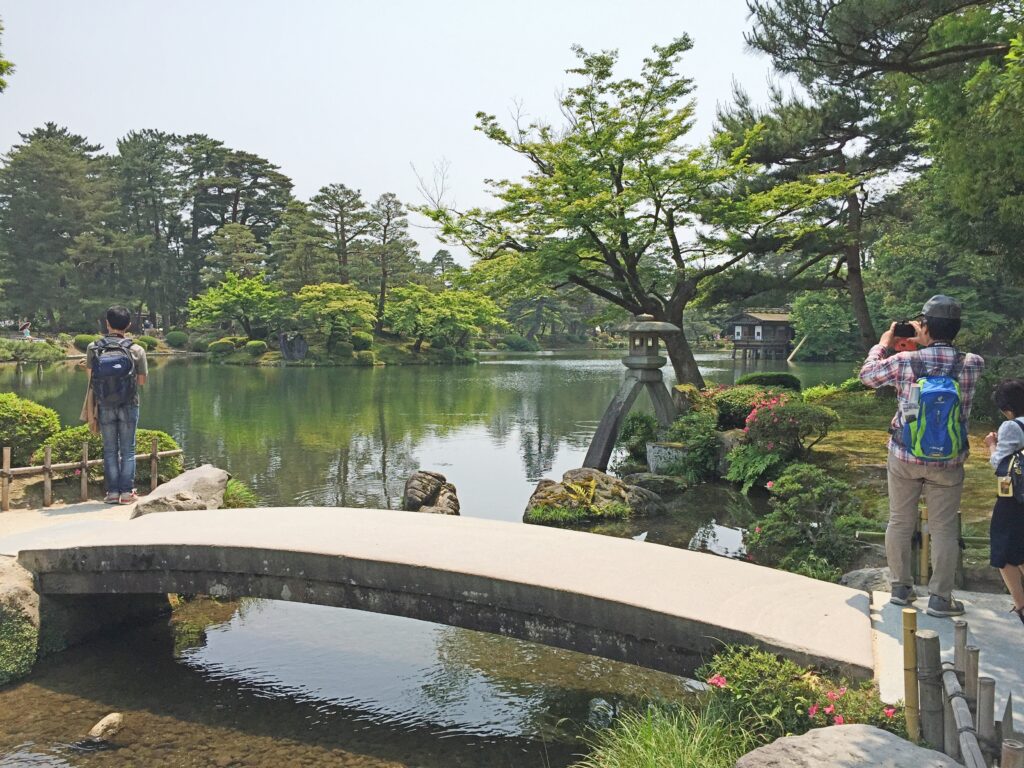 Seasonal Viewing
View plum blossoms in the southern end of the garden as they bloom around mid-February to the end of March, just before the cherry blossom season begins.
Cherry trees, which usually bloom around Kenrokuen around mid-April, can be found along the streams through the northeastern side of the garden.
Glorious views of seasonal natural beauty including the snow-covered landscape with yukitsuri (literally means snow hanging). This is a method of protecting the branches of the pine trees in the garden with ropes attached in a conical array to the trees in order to prevent the branches from breaking.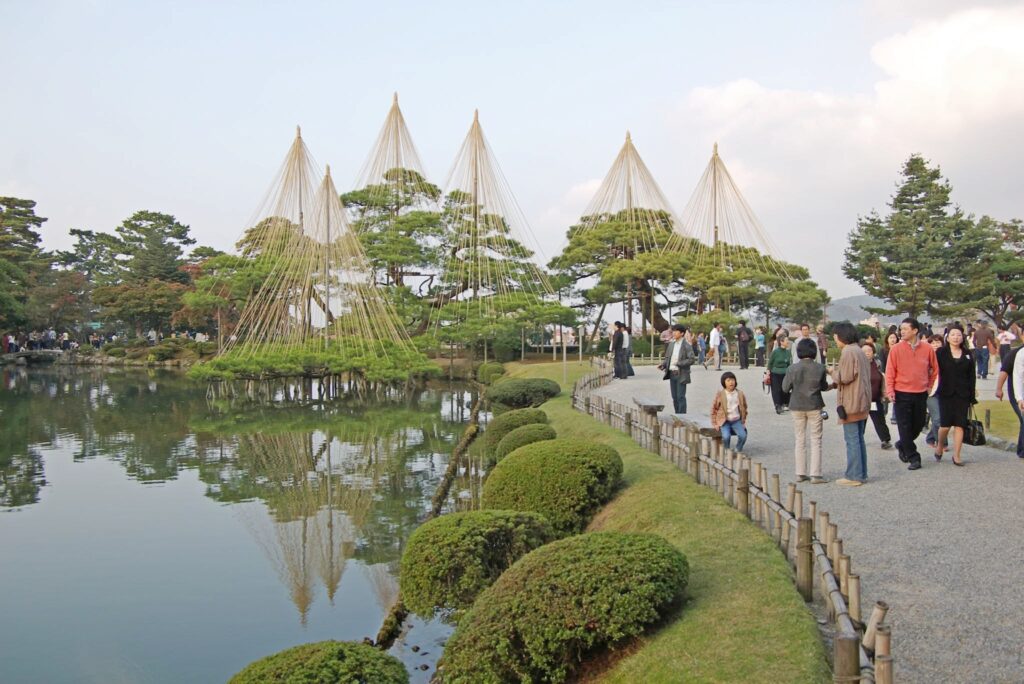 ENTRY:
¥310 (free during early admission hours)
Included in the Kenrokuen Plus One Ticket
Seniors (over 65) free (ID req'd)
Regular Hours:
7:00 to 18:00 (March to October 15)
8:00 to 17:00 (October 16 to February)
Early Admission Hours:
From 5:00 (April to August from 4:00, November to February from 6:00). Early admission visitors must exit the garden before the start of regular hours
How to Get to Kenroku-en
Kanazawa Loop Bus (stop numbers LL9 and RL
Kenrokuen Shuttle Bus (stop number S8). The one-way ride from Kanazawa Station takes about 20 minutes and costs ¥200 (¥100 on weekends/holidays in the case of the Kenrokuen Shuttle Bus).
KANAZAWA CASTLE PARK and GYOKUSEN-EN INMARU 金沢城・玉泉院丸
As mentioned above, Kanazawa was a "jōkamachi" (castle town). An administrative centre from which the domain lord (as proxy) and the central military government extended their tentacles of authority.
Kanazawa Castle once the awe-inspiring symbol of authority was established in the mid-15th century CE. It now stands in a wide open park pretty much the dead centre of Kanazawa City, located across the road from Kenrokuen Garden and from where you can cross by a bridge.
After the Meiji Restoration, many, if not most castles, were either demolished or left to fall into ruin. Kanazawa castle had been destroyed by fire a number of times throughout its history and after the fall of the military government in the late 19th century CE, it served briefly as an army barrack.
Eventually, after World War II public tennis courts were constructed on the castle grounds, and Kanazawa University had its campus on the site until the 1990s.
The city government took back control and began rebuilding in the late 1990s and it has been extensively rebuilt and renovated in recent years using historically accurate materials: a wooden framework, with outer stone walls, finished with white plaster and topped with a lead-tile roof.
FUN FACT:
the lead tile roof is an authentic reconstruction and almost unique in Japan. The ruling Maeda lord had the roof made of lead as a precaution in case of a siege, in a pinch, the lead could be melted down for flintlock pellets.
The park itself is free to enter and parts of the castle can also be freely explored. For a small fee you can also enter some of the reconstructed buildings and learn about the castle construction.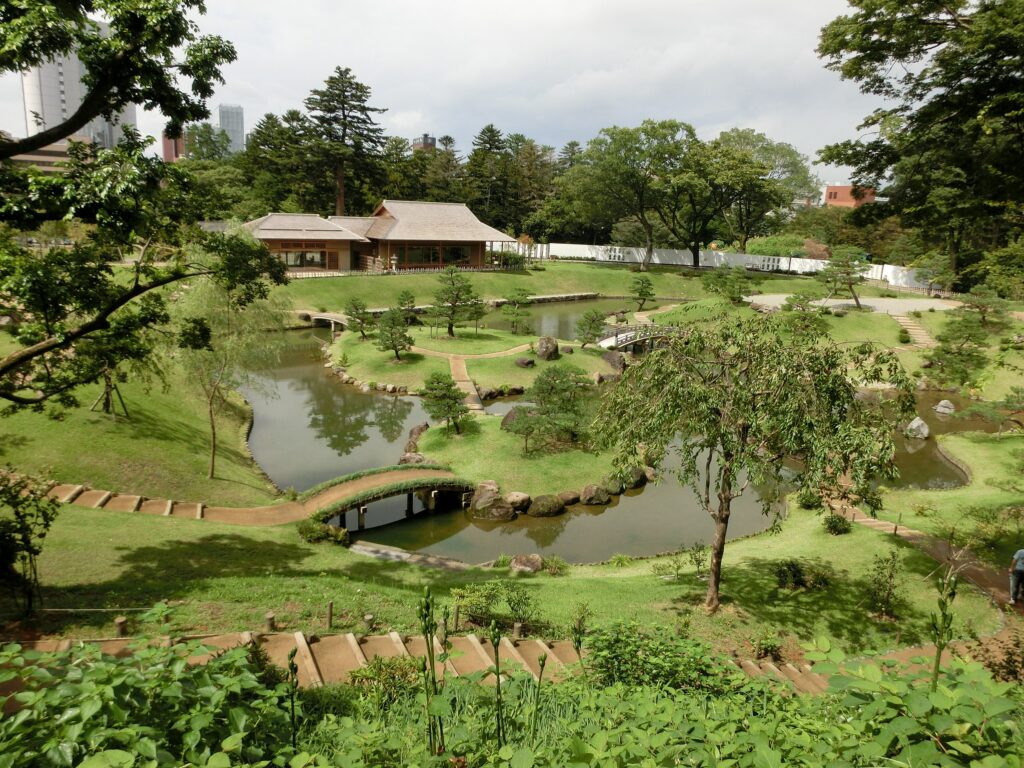 Cross the open grass park beyond the inner gate and it will lead you to another superb landscape garden, Gyokusen-In Maru
Download a map of Kanazawa Castle and Gyokusen-in maru Garden here
OMICHO ICHIBA MARKET 近江町市場
Ōmichō Market is the main fresh produce and dry goods market in downtown Kanazawa City. Established in the middle of the 18th century CE, it has now been a focus of the gastronomic culture of Kanazawa for more than 280 years.
You can spend an hour or so browsing the as many as 170 stores as vendors sing out attracting shoppers: its partcularly is well known for its fish and seafood: crabs, amberjack, yellowtail, and small shrimp from the Sea of Japan, vegetable stores that sell unique Kaga vegetables, fruit stores, dried food and marine product stores, grocery stores, clothing stores, take out and eat in restaurants. Arguably it hosts the best sushi restaurants in the region but be aware they close early, and it's often a long wait.
How to Get there:
It's a 15-minute walk from Kanazawa Station. You can also take the Loop Bus there for ¥200 and be there in 5 minutes. Get off at Musashigatusji bus stop
Open daily: 8.00 AM – 6.00 PM
Closed: January 1st – 4th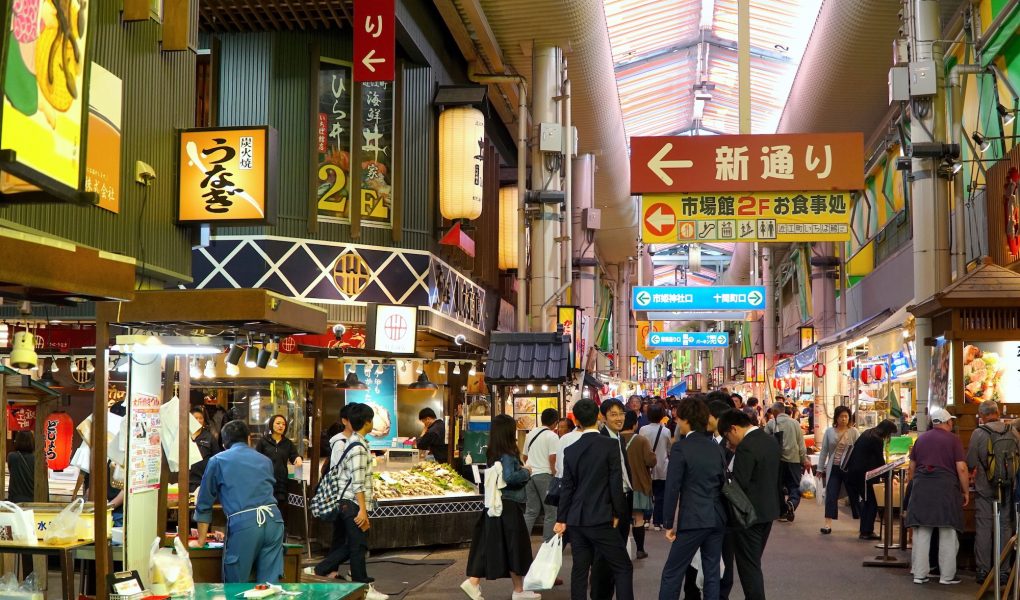 OYAMA SHRINE 尾山神社
A short walk from Ōmichō Market is a lovely shrine with a unique architecture, and some interesting art installations, and a pond encircled by a shady garden – a nice spot to chill for half an hour or so.
The shrine was in fact established in 1599 in the east of Kanazawa and dedicated to the Shinto deity (kami 神) Hachiman but moved to its present location in 1873 and renamed Oyama-jinja to honor the spirits of Toshiie Maeda, the founder of the ruling Maeda dynasty.
FEATURES OF THE SHRINE GROUNDS:
Probably the most unique feature of the shrine is its main gate. For a start, unusually, it is NOT a torii-style gate but a peculiar mix of traditional Japanese, Chinese, and European religious architectural elements. It dates back to 1875 and was designated an Important Cultural Asset in 1950.
Take a look up at the third floor of the gate with its Dutch stained-glass windows and which is said to also have served as a lighthouse.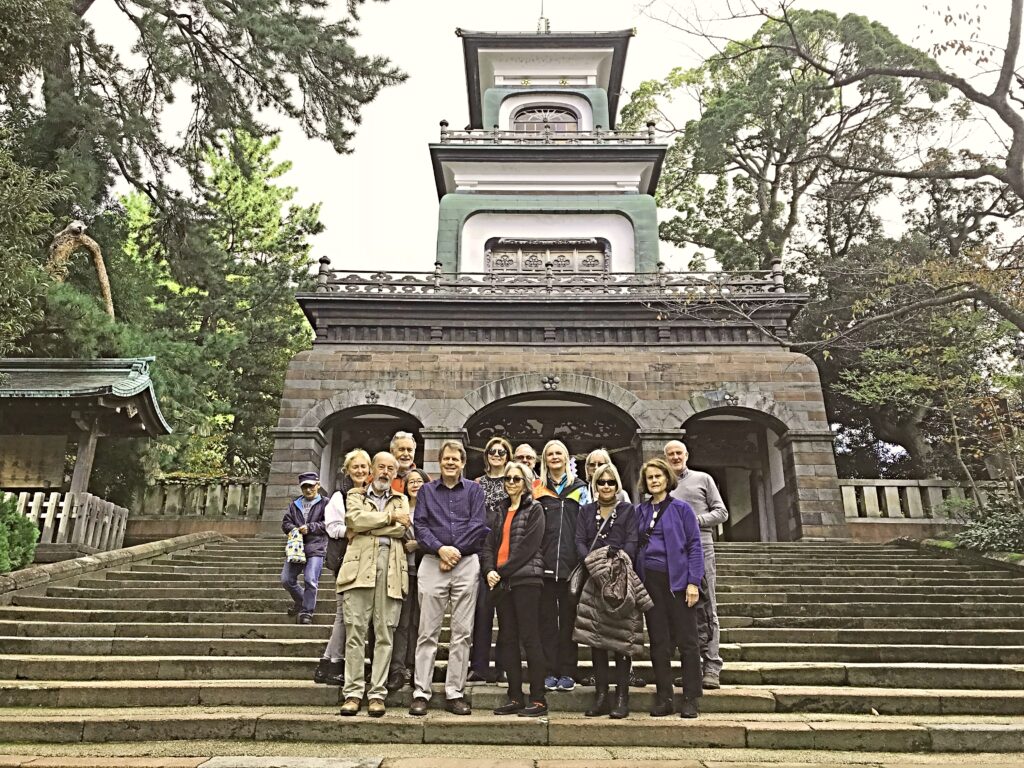 The pond has an artificial island and bridge shaped after the biwa 琵琶 (Japanese lute) beside the pond you can't help but notice a statue of Toshiie Maeda carrying his armour in a bag on his back as a sign of his warrior masculinity.
You find the the grounds are dotted with artistic monuments and various installations
If you've arrived in the morning you might like to head straight to the market and get a picnic lunch and eat it in the shrine grounds beside the pond and under shade. I always find this popular with guests.
From htewre its a pretty short satroll to either the Nagamachi are, or to Kenroku-en
NAGAMACHI SAMURAI DISTRICT 長町
Nagamachi is an area located at the foot of the former Kanazawa Castle, where upper middle-ranking samurai and their families resided. The area preserves a lovely historic atmosphere with its narrow stone-flagged lanes dividing the remaining samurai residences, tile-topped earthen walls, private entrance gates, narrow lanes, and water canals.
Some of the former samurai houses and their gardens are also open for public viewing.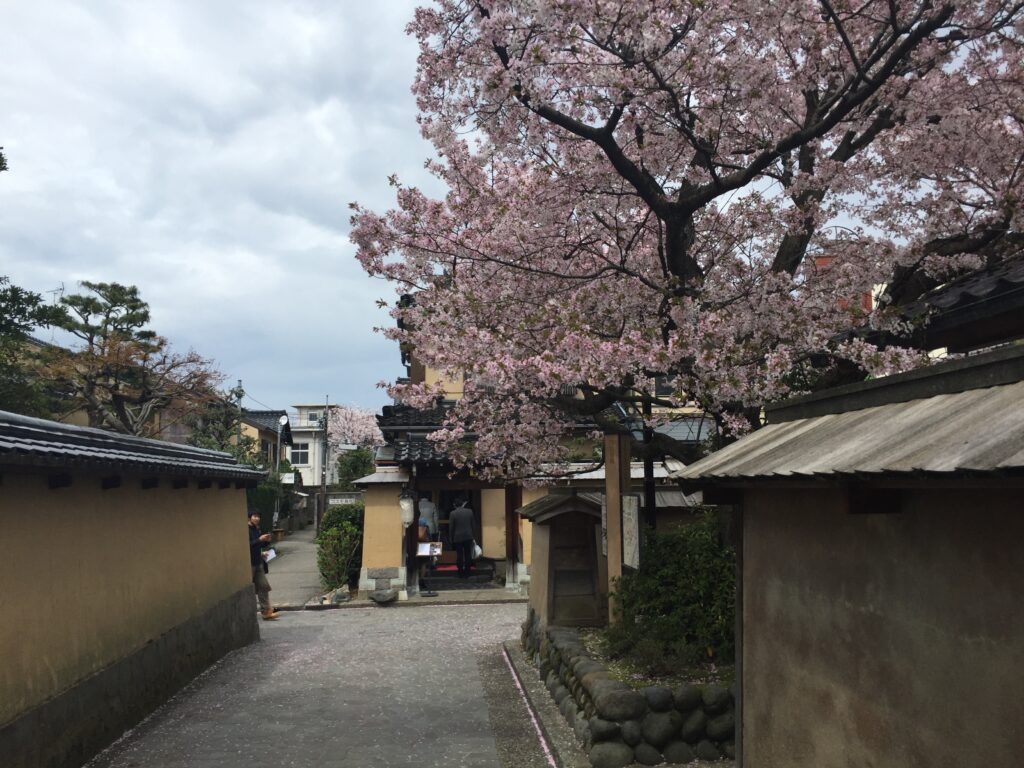 ATTRACTIONS:
Nomura House
Is one of the main attractions – a restored samurai residence displaying the lifestyle and artifacts of the era when samurai were prosperous.
Hours: 8:30 to 17:30 (until 16:30 from Oct through Mar)
Closed: December 26 and 27
entry: ¥550
Kaga Hanshi
Located in the middle of the Nagamachi district – 2 minutes walk north of Nomura House, this is a preserved building that was previously a stable that housed horses. Today it contains a nice strolling garden.
Hours: 9:30 AM to 5:00 PM
Closed: December 26 and 27
entry: ¥550
Ashigaru Shiryokan Museum
The ashigaru, or foot soldiers, were the lowest-ranked soldiers of the samurai class. This is a small museum, it consists of two reconstructed homes, which illustrate the relatively austere lifestyle of the Ashigaru.
5-minute walk north of Nomura House
Hours: 9:30 AM to 5:00 PM
Closed: No closing days
free admission
Kaga Yuzenkan
This is a silk painting workshop open to the public that stands on the site of a former samurai house it may be possible to observe artists as they mix colors and paint beautiful designs on silk.
5 minute walk northwest of Nomura-ke
Hours: 9:00 AM to 5:00 PM
Closed: New Year holidays
entry: ¥350
Kanazawa Shinise Kinenkan
This is a museum housed in a historical wooden townhouse. Inside you can find exhibits related to the merchant class of the city, a reconstructed old-style pharmacy, a tea room, a traditional garden, and displays of local handicrafts.
9.30 AM– 5.00 PM (Last entry at 4.30 PM)
Entry: Adults: ¥100 / Senior High School Students and younger: Free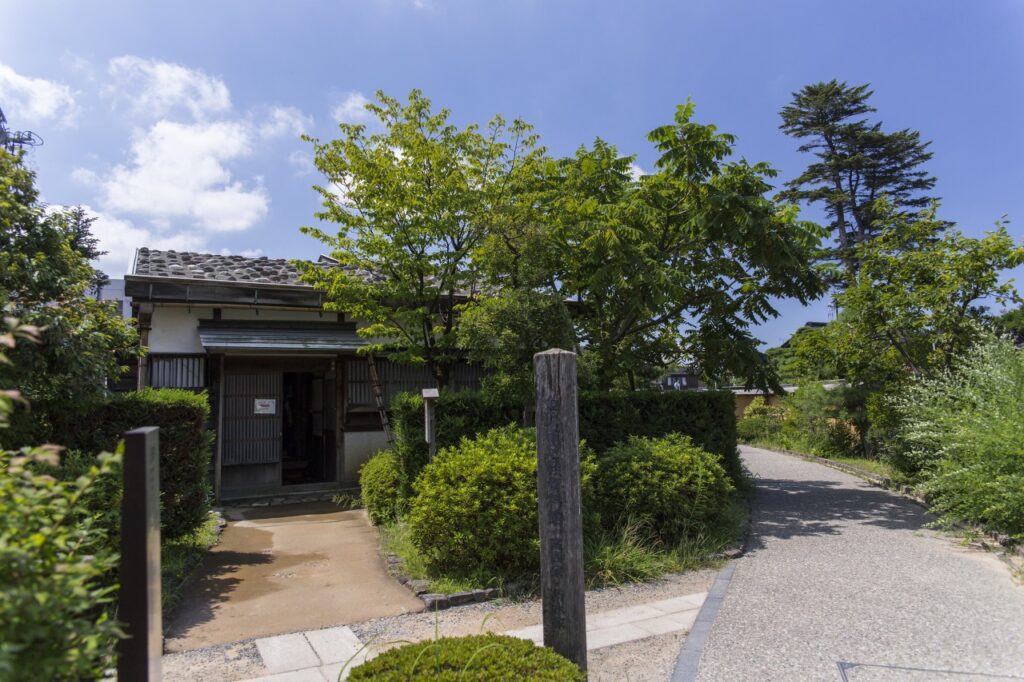 NOMURA HOUSE FORMER SAMURAI RESIDENCE 野村家侍資料館
The Nomura Clan Samurai House Museum is the former estate of 11 generations of an upper-middle-rank samurai vassal family of the Kaga Clan.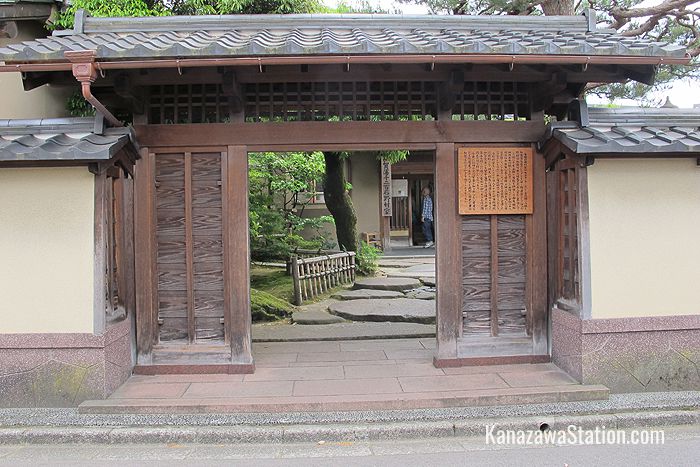 What defines an upper-mid-ranking samurai, you might ask? Well, we can see by the displays of heirloom antiques and artifacts of the past: a suit of armour, beautifully painted fusuma screen doors, elegantly carved ranma transoms, shodo calligraphy works and a ceiling paneled with cypress wood.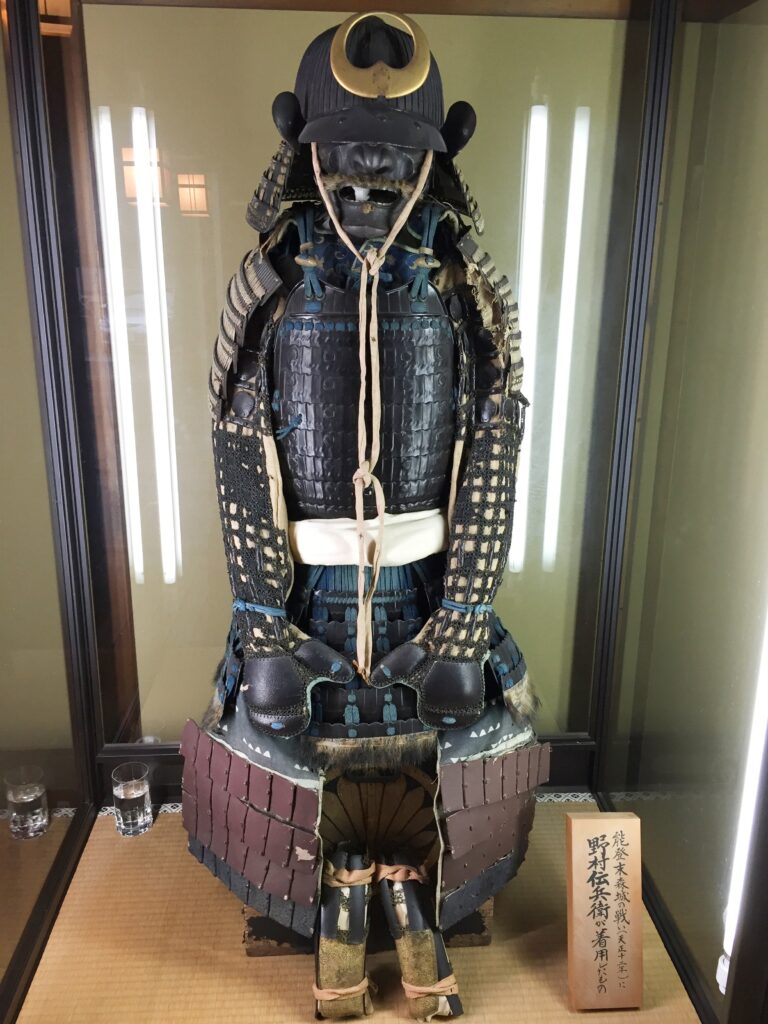 And that's before you get to the compact but stunning garden that features all the usual characteristics of landscape art: a stream, waterfall, a small pond hosting Koi carps, various stone features such as a bridge, lanterns, and storied towers, and a 400-year-old bayberry tree.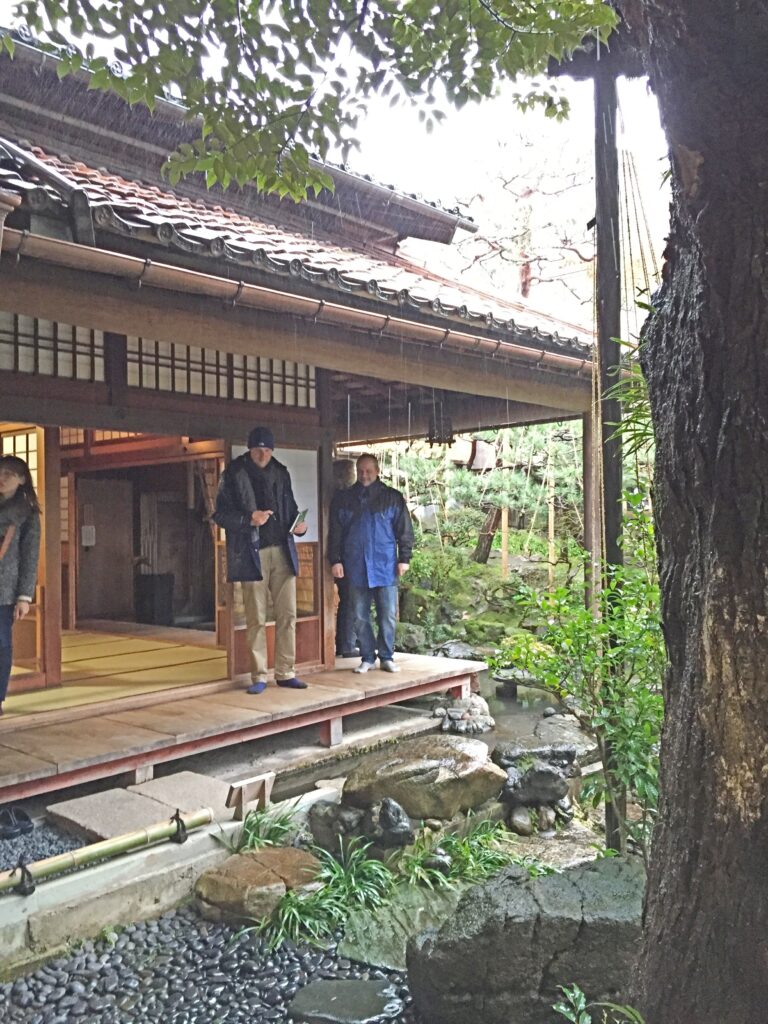 In short, they must have been relatively wealthy. Their yearly stipend was 200 koku – 1 koku is a bale of rice equivalent to a year's rice supply for one person.
FUN FACT:
Yes, no mistake, the samurai were the famously fearsome, never-say-die feudal age warriors portrayed in books, plays, and the cinema. But what you might not know is that historically the word samurai (侍) means simply "to wait upon / to serve". That is to say, perhaps simplistically put, that while they were a warrior caste samurai also performed other roles and particularly administrative duties. They came to the fore as a military caste from the 12th century onwards until the caste was abolished in the late 19th century. Though throughout the Edo Era – under the Tokugawa dynasty, war and even dueling were prohibited and so predominantly samurai filled more functionary roles.
How to Get to Nomura Clan Samurai House
The Nomura Samurai House Museum is located on the edge of the Nagamachi Samurai District which is located just a five-minute walk to the west of the central Kohrinbo neighborhood.
Take any of the sightseeing buses. If going from the Kanazawa Station to Kenrokuen on the Kenrokuen Shuttle, get off at stop S3.
If going the other direction, get off at S10. Either stop LL3 (on the Left Loop bus) or RL13 on the Right Loop bus. It will drop you at Kohrinbo.
If coming from Kanazawa Station, the Left Loop (counter-clockwise) bus will get you there faster. Fares for all are ¥200 for adults or ¥100 for children
HOURS / ENTRY FEE
April – September: 8:30 AM– 5:30 PM
October – March: 8:30 AM – 4:30 PM
Last entry 30 minutes before closing time.Closed: December 26th & 27t
ENTRY: Adults: ¥550¥ / 15 – 17 years old: ¥400 / 7 – 14 years old: ¥250
HIGASHI CHAYA DISTRICT 東茶屋街, Higashi Chayagai
A chaya (lit. teahouse) is an exclusive type of restaurant where guests are entertained by geisha who perform song and dance.
During the Edo Period, chaya were found in designated entertainment districts, usually just outside the city limits. Kanazawa has three, well-preserved chaya districts or chayagai: Higashi Chayagai (Eastern Chaya District), Nishi Chayagai (Western Chaya District), and Kazuemachi.
Higashi Chayagai is the largest and by far the most interesting of the three tea districts, and there are still working tea houses providing Geiko entertainment though these days generally these professionals travel up from Kyoto. Two chaya, the Shima Teahouse, and Kaikaro Teahouse are open to the public.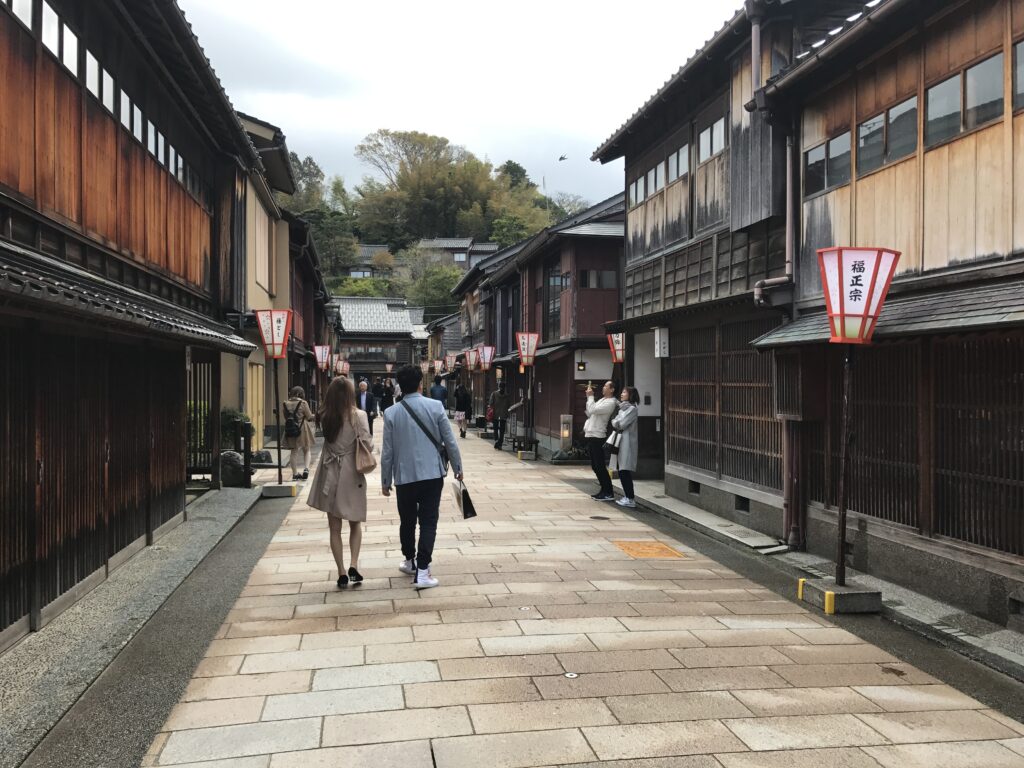 Shima is a former geiko teahouse that now functions as a museum dedicated to Higashi-Chaya's geiko culture, and looks much as it has for 200 years, with a plain wood exterior and bright red walls, tatami mat flooring, and a small courtyard garden inside.
The other, Kaikaro continues its 200-hundred-year tradition providing Geiko entertainment to a upper echelon, select patronage. On certain nights, Kaikaro hosts an interactive geiko performance in English called Geisha Evenings in Kanazawa. Some guests can join in traditional games with the geiko. Reservations can be made online.
In case there is any misunderstanding, these professionals are classically trained highly professional entertainers, though the demand is far less than the hey days up to Second World War and these days generally these professionals travel up from Kyoto
Other buildings along the central street now house cafes and traditional ceramics, lacquerware, jewelry and accessories, exotic foods, and clothing shops.
Gold leaf production is a signature craft of Kanazawa, and Higashi-Chaya has many shops selling gold-leaf products. Visitors can try applying real gold leaf to accessories such as plates, chopsticks, and jewelry boxes at some stores.
The visually outstanding and opulent, HAZUKA sells gold leaf products, a specialty of Kanazawa, and displays a tea ceremony room that is completely covered in gold leaf.
Open all year round but trading hours vary according to the establishment.
How to Get to the Higashi Chaya District:
The Higashi Chaya District can be accessed by the Right Loop of the Kanazawa Loop Bus in about 10 minutes from Kanazawa Station. Get off at Hashibacho (Koban-mae) bus stop (number RL5), from where the district can be reached in a five-minute walk.
D.T. SUZUKI MUSEUM 鈴木大拙館 – Suzuki Daisetsu Kan
The D.T. Suzuki Museum is a small museum commemorating the life and works of
Suzuki Daisetz Teitaro (1870-1966), a prominent Buddhist philosopher, in the district
of Kanzawa where the where Suzuki was born.
The museum has three buildings connected by corridors built around a large flat
pond at their center called the Water Mirror Garden. There is also a garden around
the grounds which visitors can enter.
On display are exhibitions showcasing the writings of D.T. Suzuki which allow the
visitor to learn more about his life and philosophy.
The architecture of the museum serves as an interpretation of D.T. Suzuki's life and
religious scholarship; its use of clean, simple lines and open spaces causes visitors
to pause and reflect.
It is manifestly an example of Zen minimalist art, an installation in itself if you will;
intended to "lend a hand" in conveying the serenity that comes with Zen philosophy
and sense of tranquility throughout the museum.
How to Get to D.T.Suzuki Museum:
Kanazawa Loop Buses (stop numbers LL7 and RL10)
Hokutetsu buses also provide access between Kanazawa Station (east exit bus stop number 5 or 10) – Get off at the Honda machi bus stop (本多町- around 15 minutes
¥200 one way
ALT: a ten-minute walk from the 21st Century Museum of Contemporary Art.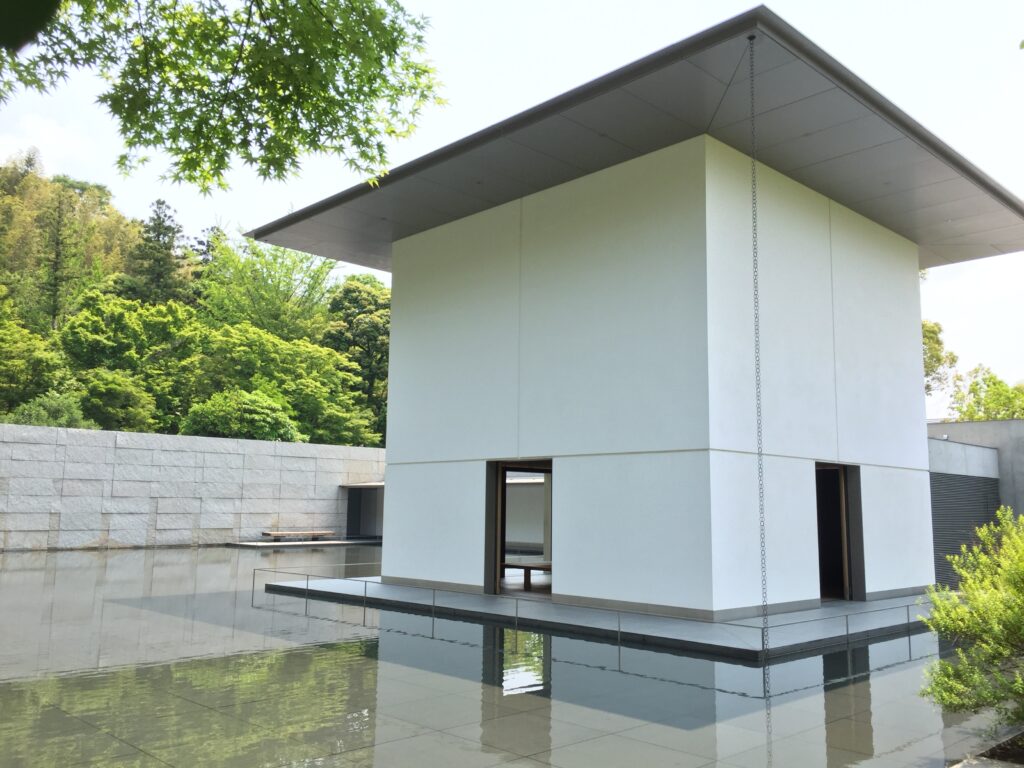 Hours:
9:00 AM to 5:00 PM (entry until 4:30 PM)
Closed Mondays (or the following day if Monday is a national holiday) /December 29
to January 3
Entry
¥300
How to Get to the D.T.Suzuki Museum
There is a path behind the water feature that takes through parkland and through a Japanese landscape world and leads past a shrine where on a weekend you might be lucky enough to come across a wedding. I have a couple of times.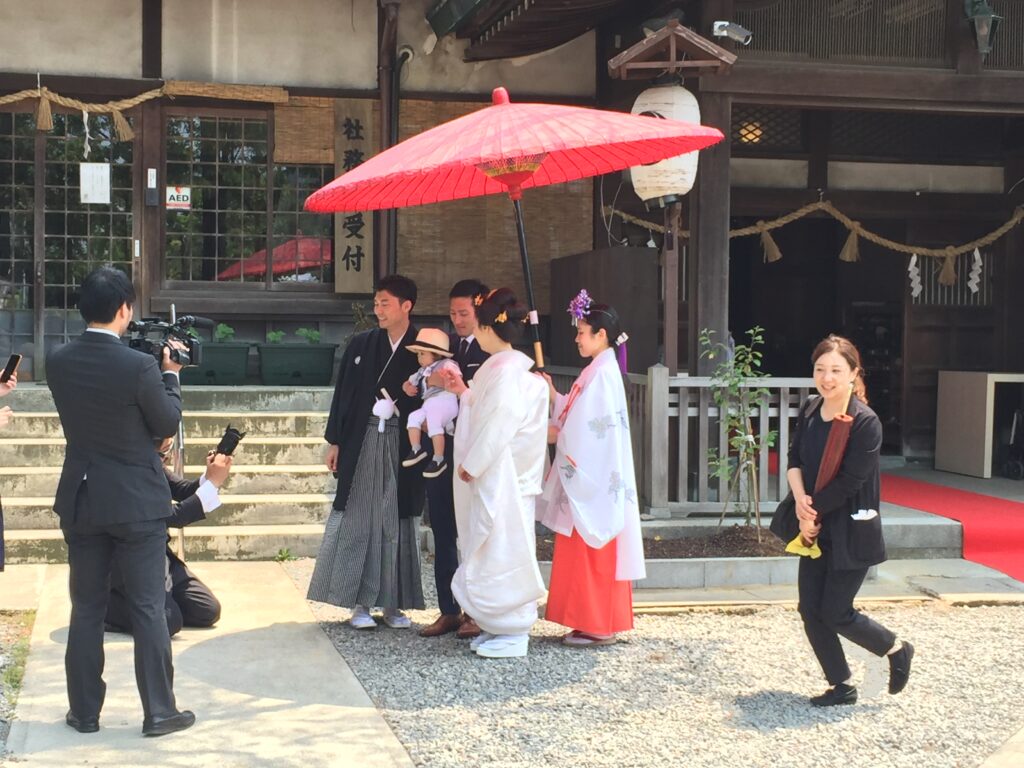 21st CENTURY MUSEUM OF CONTEMPORARY ART / all year round
The 21st Century Museum of Art is one of the city's main attractions for both visitors and locals alike. The futuristic circular design building resembles a space ship landed in the surrounding lawn park. It houses a variety of display spaces and function rooms and exhibits are predominantly art produced since 1980; a mixture of installations, video and mixed-media pieces.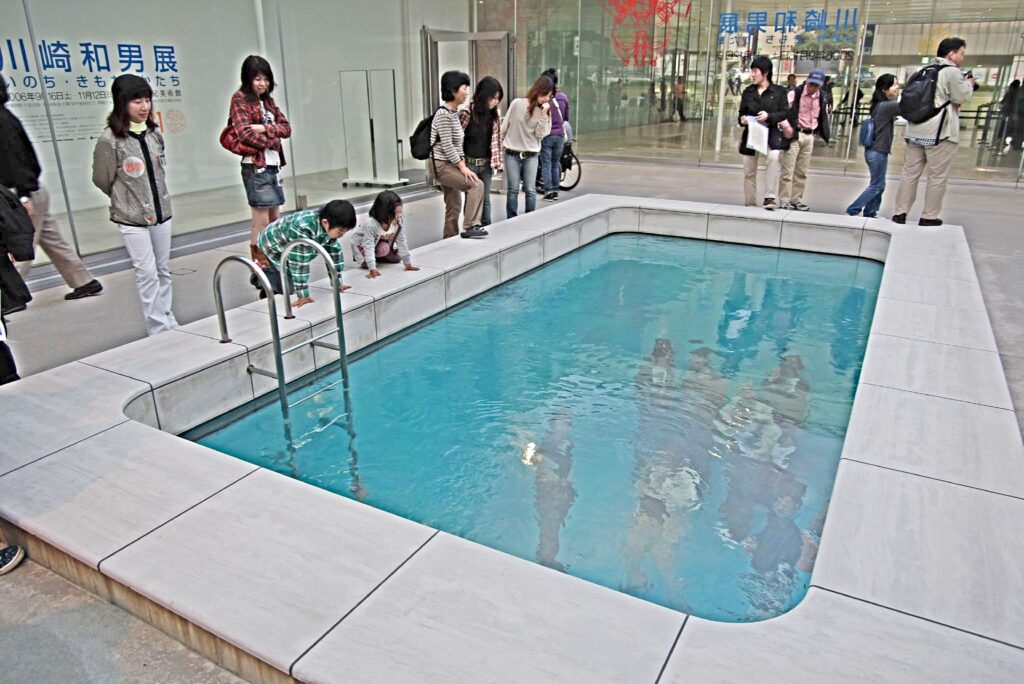 MYORYU-JI (NINJA) TEMPLE 妙立寺
Myōryū-ji, commonly known as Ninja-dera ("Ninja Temple"), is a Buddhist temple belonging to Nichiren sect located in the city of Kanazawa, Ishikawa, Japan. While not actually associated with ninjas, the temple earned its nickname because of its plethora of secretive structural defences.
In previous articles we've learned that Kanazawa was ruled by the Maeda family throughout the Edo Era. Interestingly Toshiie Maeda the originator of the dynasty were assigned the fiefdom by The Tokugawa Shogun's predecessor and rival.
Iieyasu Tokugawa was an eminently skilled and crafty political and military strategist and to put it simply he chose the battles he would fight. The Maeda were possibly the next most powerful family and so Iieyasu deemed it prudent to make them allies, eave them installed and keep them "in the fold" so to speak.
However he kept very strict control on the power the the regional lords to keep them too weak to raise rebellion against him. One control mechanism was strict building restrictions. Maeda Toshitsune, the third daimyō of Kaga Domain circumvented these impositions by relocating a buddhist chapel from the castle to the designated temple district and had it developed into a temple that doubled as a military outpost.
This structure was replete with considerable defensive features and escape routes, so that its defenders could alert the castle in the event of an attack. These included hidden tunnels, secret rooms, traps, and a labyrinth of corridors and staircases.
Only the 45-minute, ¥1000 guided tour is available for visitors, and reservations are necessary. (Children between 8 and 12 can enter for ¥700, but children younger than 8 are not allowed.) Early hours and weekdays give the best chance for smaller crowds, which means you can see more. Be sure to arrive at least 10 minutes before your scheduled tour time.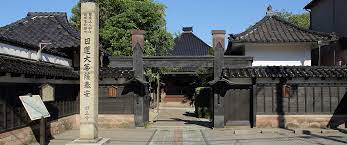 The tour is only in Japanese, the staff provides alternate language materials but the translation is a bit clumsy and the temple is poorly lit, so reading along the tour may be difficult. I strongly recommend reading as much of these as possible before smaller groups are formed.
Be aware it is a working temple and my experience has been that the staff are quite strict if not a tad rude. On your own with adults it's an interesting visit but might prove a struggle with children.
Thanks for reading! 🙇
But wait! There's more!
I am busily adding more blogs week by week. My most recent to this is Japanese Language and Some Useful Phrases loaded with handy phrases to snaz up your experience.
I'd like nothing better than to share my town with you: Check out my reviews and testimonials and do look at the wonderful described in my private tours list for individuals or small groups.