Hida-Takayama (飛騨高山) is a small rural city located deep in the mountainous Hida region of Gifu Prefecture in the centre of the main island of Honshu. You will notice a prefix attached to the name.
There are, in fact, other towns also named Takayama in Japan, so to differentiate, strictly speaking, it is commonly referred to by the Japanese as Hida-Takayama. However, as we know where we are referring to, let's keep it abbreviated.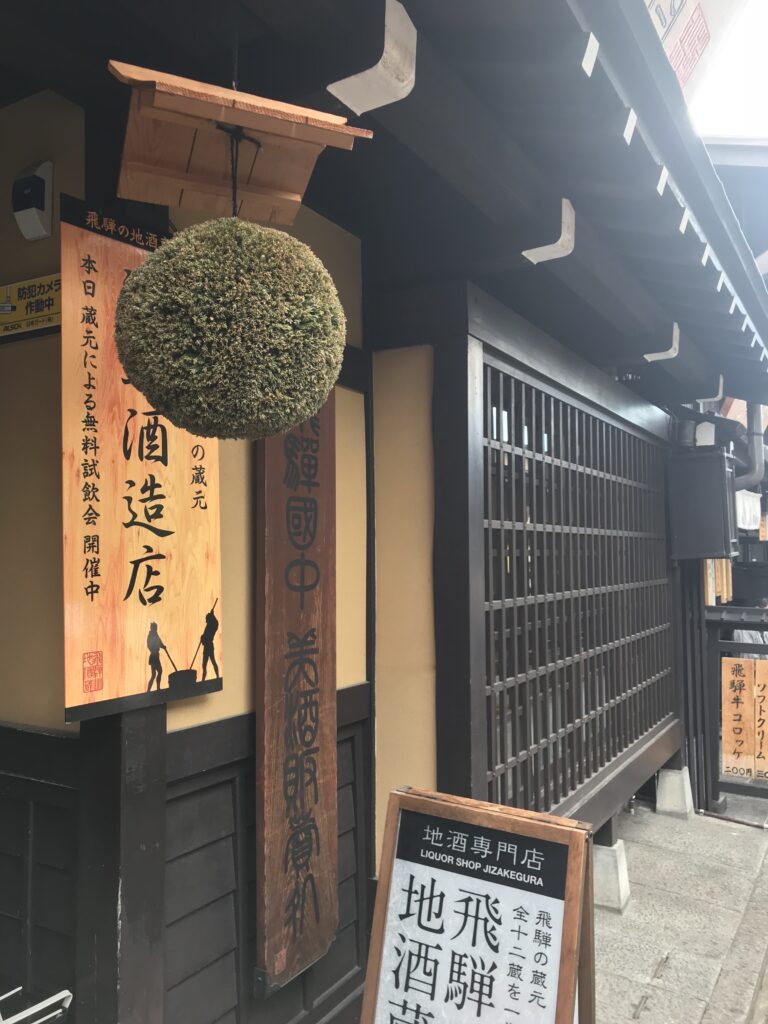 Takayama's history reaches back as a settlement as far back as the Jōmon period – this refers to the earliest known period of – the very beginnings of – civilization in Japan, arguably the period 13,000 BCE – 300 CE.
However, the town and its culture, as they exist today, took shape at the end of the 16th century CE and Hida-Takayama now is best known for the preserved Edo period (1603-1868 CE) section of town known as 'Sannomachi', and for its feudal age village.
Historically, Takayama is renowned for its high-quality timber, and for its inhabitants' expertise in carpentry, and because of that, in the late 17th century CE the city came under the rule of the Tokugawa shogunate (see above link Edo period).
And under the direct control of the shogun, it enjoyed quite a bit of prosperity despite its remote mountain location. In fact, it is believed the town frequently paid its taxes in trade and that carpenters from Takayama built sections of the Imperial Palace in Kyoto and many of the temples in Kyoto and Nara.
Still, despite the attention it attracted, the high altitude and remote location kept the area fairly isolated, allowing Takayama to develop its own culture and dialect over about a 300-year period – interestingly, though it is located deep in the Japanese alps, it is in fact only about 570 m above sea level.
And Takayama retains a traditional touch like few other Japanese cities, especially in its beautifully preserved old town and it ranks as a prime destination candidate among travellers wishing to add a rural element to their itineraries.
It is also renowned for its high-quality Hida beef and if you enjoy a good BBQ there are lots of restaurants offering a wonderful dining experience.
Your lodging will have English language tours maps and information. There is really is a lot to enjoy.
Read on!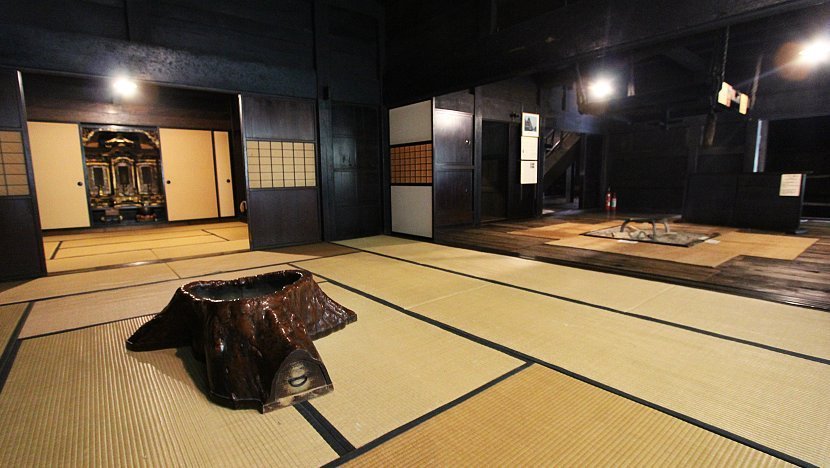 What to see and do in Hida-Takayama?
Sannomachi 三町
The main focus of attraction is the old preserved district of town known as Sannomachi, an approximately 2 square km sector of buildings preserved in the original state reaching back to the Edo period or earlier.
There is plenty of opportunity for souvenirs. As you wander taking in the atmosphere I expect you will regularly see small cloth dolls. These are actually amulets called SARUBOBO. They are red human-shaped dolls, with no facial features, and made in a variety of sizes.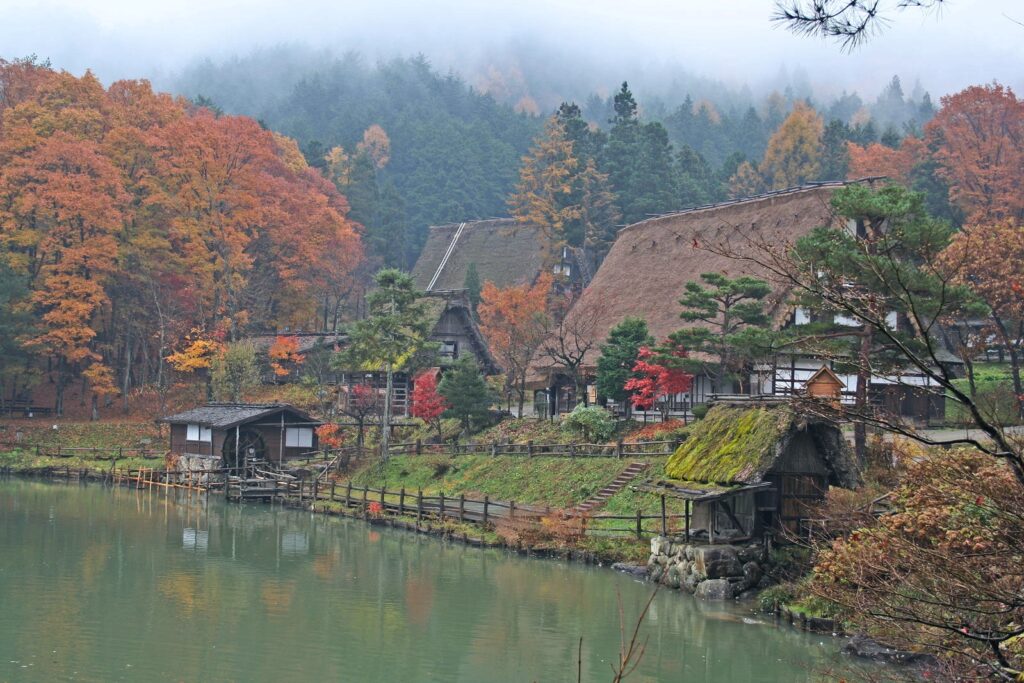 Traditionally, sarubobos are made by grandmothers for their grandchildren as dolls, and for their daughters as a charm for good marriage, good children and to ensure a well-rounded couple.
Sarubobo literally translated from the Japanese is "a baby monkey". The face of the sarubobo is traditionally red, as is the face of newborn baby monkeys. Saru" is the Japanese word for monkey, and "bobo" is the word for baby in the dialect of Takayama.
There are several reasons why the amulet has this name but principally, the word sarubobo is associated with three wishes:
Protection from bad things: In Japanese, the English word "leave" also translates as "saru", so possession of a sarubobo means that bad things will "saru"
A good partnership match is a happy home: In Japanese, a happy home is "kanai enman"; a good marriage match is "ryo-en" (Another way of saying "saru" is "en".)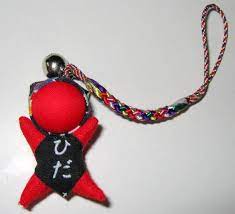 Monkeys apparently have an easier time giving birth than humans, so it symbolises hope for having an easy delivery during birth.
A bonus for your efforts to get here is that Takayama also has excellent sake breweries and you will find them on Sannomachi street where you can get a tasting experience. Take some home? You might ask your accommodation to arrange for it to be couriered (quite cheap) back to your pre-departure hotel if you don't want to carry it with you.
The Takayama Jin'ya / Former Government Offices 高山陣屋
Takayama Jinya was a base for the rule of Hida at a time when this domain was under the direct control of the Shogunate. The Edo Shogunate maintained its rule rule with assigned governors of Hida Province for 176 years until 1868.
The facility was also used as a local administration office from the Meiji period (1868 to 1912) onward. It continued to administrate the district for a total of 277 years, until the government office was relocated in 1969.
Typically visitors spend up to an hour looking through the various rooms and spaces that
include nicely maintained tatami rooms that once served as offices, conference rooms, guest rooms and residential space. There is also an interesting interrogation room.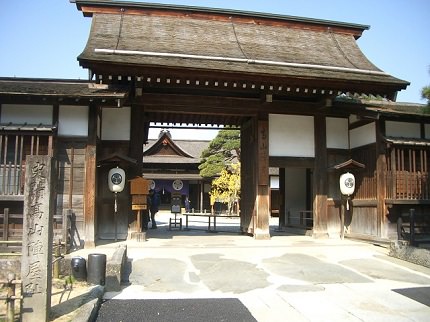 Beside the main building stands a large storehouse built in the 1600s. Known as the biggest traditional rice storehouse in Japan, it now functions as a museum, showcasing belongings and official documents of past local leaders, old maps of the Hida Region and historic town plans.
8:45 AM to 5:00 PM (until 4:30 PM from November to February)
open 7 days year round except December 29, 31 and January 1
Entry ¥440 yen
Matsuri no Mori まつりの森
the Matsuri no Mori ( lit. "Festival Forest") is an exhibition centre located to the south of the old town centre, showcasing the key aspects of the Takayama Festival, which takes place for two days each spring and autumn.
The festival is known as one of Japan's three most beautiful, along with Kyoto's Gion Matsuri and the Chichibu Yomatsuri.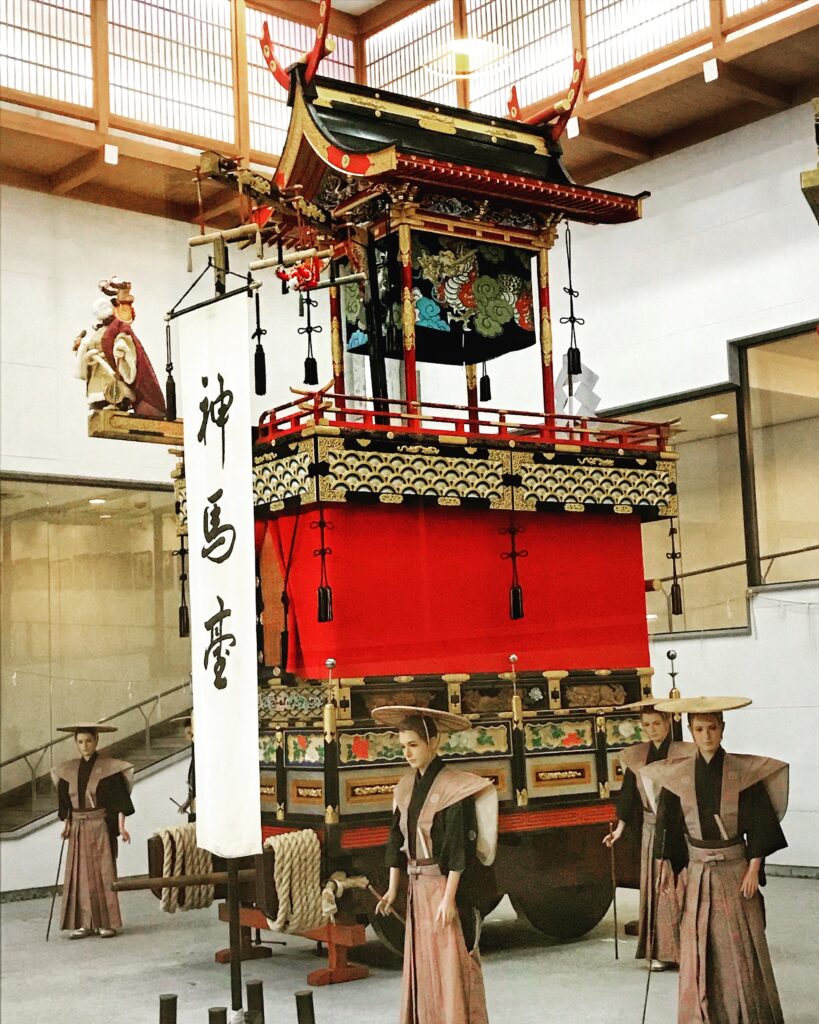 From the museum's entrance, a long hallway leads to the underground main exhibition space. The hallway is lined on the left with miniature festival floats, actually one-third the size of those used in the autumn festival.
On your right are ostentatious golden-lacquered folding screens which depict famous floats from festivals in Kyoto and other cities.
The main exhibition space displays a number of magnificent, life-sized replica floats, giving visitors a close view at their elaborate designs, decorations, and karakuri dolls. Karakuri dolls are marionettes which are a key feature in the Takayama Festival.
They are usually manipulated by puppeteers, but the museum uses machine-operated ones for demonstration performances that are held frequently throughout the day.
Matsuri no Mori further displays several huge taiko drums, said to be the biggest drums in the world. Visitors can have a chance to enjoy the rich timbre of these mighty percussion instruments through one of the scheduled shows.
Information in the English language at this venue is limited but the exhibits are enjoyably interesting even for non-Japanese speakers.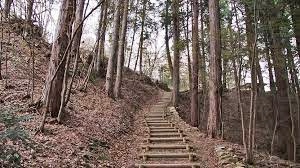 Higashiyama Walking Course
The Higashiyama Walking Course (東山遊歩道, Higashiyama Yūhodō) is a pleasant 3.5 kilometer long walking course through Takayama's temple town (Teramachi), the rural town's outlying suburbs and Shiroyama Park, a wooded hill and former site of Takayama Castle.
Inspired by a district of the same name in Kyoto the lord of the fief missing his beloved Kyoto, had temples built in the hills of the eastern part of town to reflect that of Kyoto's own famed Higashiyama area
Along the way the route passes more than a string of temples and shrines, the ruins of Takayama's former castle, and ordinary scenes of a rural Japanese town. It's not particularly an experience offering vistas, but you pass through forests of age-old oak and cedar, cypress pine.
It is a very pleasant way to spend one or two hours thereabouts, and get to escape the tourist bustle and get some familiarity with Takayama's quiet everyday side. It is relatively well sign-posted (I last walked it in 2018) but please do keep aware of the path which can lead you somewhat astray if you're not careful.
Hida Folk Village 飛騨の里
is an open air museum exhibiting over 30 traditional houses from the Hida region, the mountainous district of Gifu Prefecture around Takayama. The houses were built during the Edo Period (1603-1868) and were relocated from their original locations to create the museum in 1971.
In a village-like atmosphere, the museum features unique wooden architecture buildings: houses, land tradesman's huts, and storehouses that exhibit tools and utensils used in everyday life in the past.
And, a number of gassho-zukuri farmhouses, which are named after their steep thatched roofs resembling a pair of hands joined in prayer ("gassho").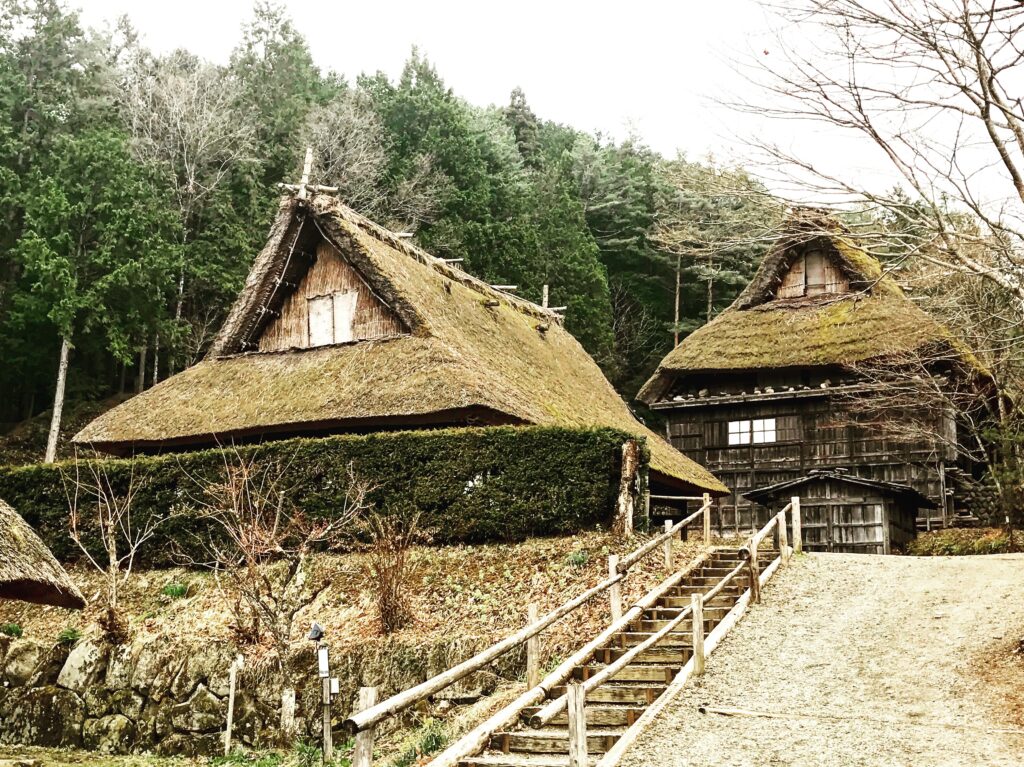 Typically it is a 2 hour visit.
The Hida Folk Village is a 30-minute walk or 10-minute bus ride from Takayama Nohi Bus Terminal adjacent to Takayama JR Station. The Sarubobo Bus (see this link for the timetable) operates about twice per hour and costs ¥100 per ride or ¥500 for a one-day pass
8:30 AM to 5:00 PM
Open all year round
Entry
¥700 yen
FYI: I should mention that a big attraction of the district is the village of Shirakawa-go, a UNESCO World Heritage Site. It is one of the top popular sightseeing destinations in Central Japan. The village consists of approximately traditional houses with thatched and steep roofs called Gassho-Zukuri.
And it is "live", so to speak, not simply an exhibition site. Visiting it is a full-day trip and it can be quite crowded (this opinion is based on pre-pandemic experience).
Personally, I find Hida Folk Village a perfectly good, more accessible alternative. It is a matter of the time you wish to spend, really.
The Hida Takayama Retro Museum
The Hida Takayama Retro Museum is located in a refurbished warehouse in the center of Takayama City, within Gifu Prefecture. Inside the museum are relics from the Shōwa (1926–1989) era that includes home appliances i toys, cartoons, movie posters, all kinds of memorabilia:
In the toy shop are collections of popular characters from the Shōwa era. There are tin trucks, soft vinyl Ultraman figures, and Kamen Rider toys, an interactive display where visitors can play with toys. On the second floor is a tatami room where you can play Nintendo games from beginning to end to close.
There is a confectionery shop where visitors can try sweets and treats from the era.
It is a place in pretty stark contrast to the outside surrounding sightseeing, and great for kids. And a good spot if the weather is unkind.
9 AM to 6 PM.
Open all year round
¥800 per adult, ¥500 per junior or senior high school student, ¥300 per child (4 to elementary school student)
Thanks for reading! 🙇
But wait! There's more!
I'd like nothing better than to share my town with you: Check out my reviews and testimonials and do look at the wonderful described in my private tours list for individuals or small groups.
Feel free to just reach out to me with any questions I may be able to help you with.