Tokyo is the brash somewhat dazzling frontline of any visit to Japan. But before I proceed with the BEST THINGS TO DO IN TOKYO, a short introduction.
Tokyo succeeded as the capital in the latter half of the nineteenth century (its name Tokyo actually translates as Eastern Capital) over Kyoto – the Thousand-Year Capital – its once-tenured more traditionally cultured, and historic forerunner.
And Tokyo has never looked back; always pushing boundaries and drawing attention from within and outside Japan, but it is Japan (almost a synonym for sharp contrasts).
And not to worry, there is still plenty of tradition. hundreds of little neighbourhoods, microcosms still clinging to age-old tradition disperse the conglomeration of towering skyscrapers and modern metropolis.
An important question about planning your visit is, how long should you spend in Tokyo? The first time around, I think anywhere from three to five nights is perfect.
What is there to do in Tokyo?
The list of things to do in the capital is not quite endless but it's close to what one would expect. There is, of course, your standard fare of temples, shrines museums, galleries, parks, and extraordinary gardens.
Then add the weirdest activities like themed cafes (cats, owls, goats even!! – disclaimer: personally, I'm not a fan of these types of attractions but they are there, and it's not for me to begrudge interest in them), the sensory-overload shows like Robot Restaurant (currently, shows are suspended until it's considered safe to entertain crowds).
There are maid cafes – these are a unique and innocent experience; one that frankly is not my thing but it's Japan and if you're in for a penny you're in for a pound, arcades, and the gamer heaven of Nakano Broadway, cos-players in Harajuku, go-karting in the city streets, or go-kart racing on a track.
What to do in Tokyo for a day?
It is not exhaustive but here is a list of the best things to do in Tokyo that will give you an exciting look at this marvellous city, and it should cover (at least! lol) a couple of days of the best things to do in Tokyo.
You could just simply follow the blog destinations in the order below, or you can jump to any selected destination:
TSUKIJI MARKET:
One of the best things to do in Tokyo is an early morning wander around Tsukiji Market. Actually, the former Tsukiji Wholesale Market has been relocated but the old outer market is still the same exciting jostling busy place as ever.
It covers a few blocks of wholesale and retail shops selling fresh and processed seafood and produce alongside food-related goods such as knives, interspersed by restaurants crowded along narrow lanes.
The eateries are typically open from 5:00 in the morning to around noon or early afternoon.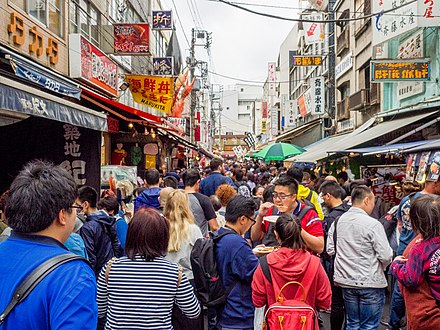 In general, Tsukiji Outer market is a fascinating place to browse, and as you can't get fish any fresher it's a fab place to catch breakfast or lunch.
Sushi anyone?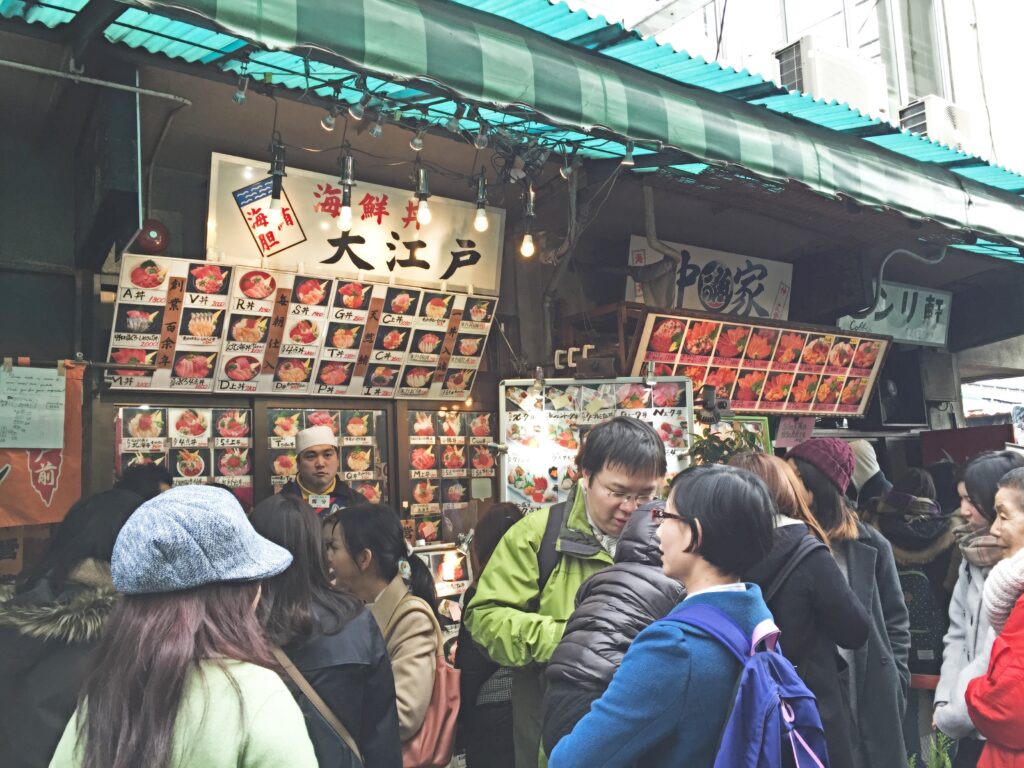 And if you'd like to take a look at the nearby Tsukiji Honganji Temple you'll (later come to) realise it is unique to Japan in its architecture, resembling more distinctly the kind of architectural features you'd more likely expect to find in India or South East Asia.
HAMARIKYU GARDENS:
Located on the edge of Tokyo Bay, it's a fifteen-minute walk pretty much in a straight line from Tsukiji market to Hamarikyu Gardens.
This was once the private domain of the Shogun for his own quiet reflection or entertaining guests with tea ceremony or falconry. With an area measuring roughly 250.000 sq metres (820,000 approx.), there's plenty of space to enjoy quietly on your own.
Being it all about botany the seasons feature very colourfully.
In late February it's a great spot to see plum blossoms – ume, and cherry blossom – sakura from late March to early April. and in Mid March enjoy a fabulous display of as many as 300,000 rapeseed blossoms – na no hana blooms filling a 1500 sq metre field.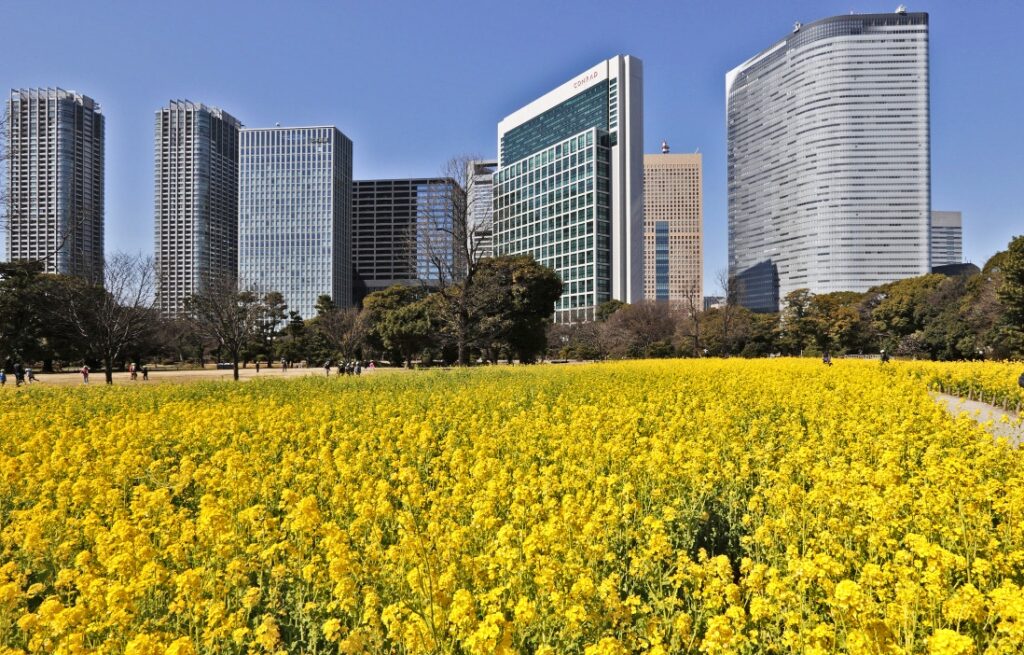 And Hamarikyu is famed for its peonies- botan, usually blooming from mid-April to mid-May. Since there aren't many places in Tokyo where you can see this many peonies at once, the peony garden in Hamarikyu Gardens is a must-see.
In Autumn gentle pastels of cosmos and ablaze with koyo (autumn colour) through October.
On January 2nd and 3rd each year there is a demonstration of the art of falconry.
One experience I really recommend on the visit to this historic garden is for a quiet interlude at the tranquil tea house (Nakajima no ochaya) situated on a small island surrounded by the garden's ponte.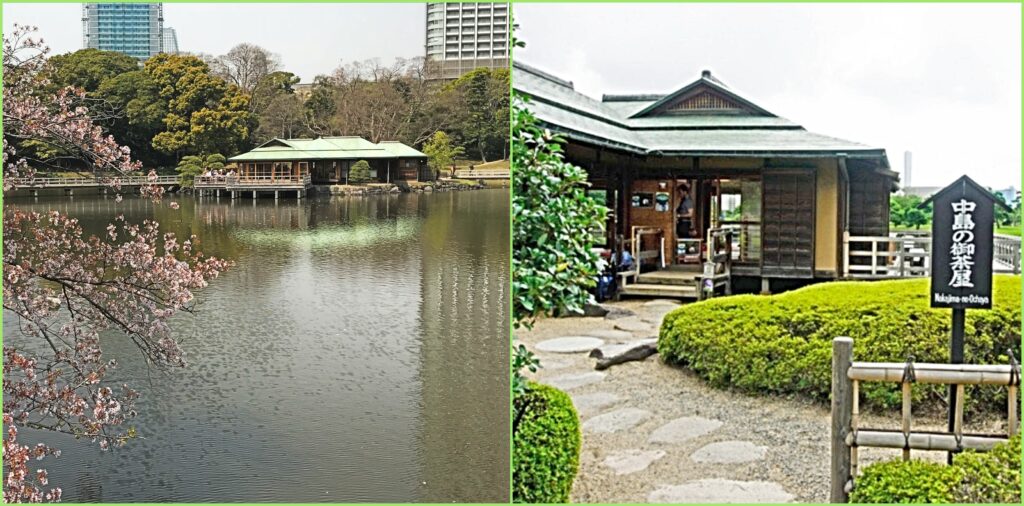 Here you can enjoy green macha tea, served in a beautifully decorative tea bowl with a traditional sweet:
Green Tea + Yam Steamed Bun:¥510
Green Tea + Nerikiri Traditonal Sweet:¥720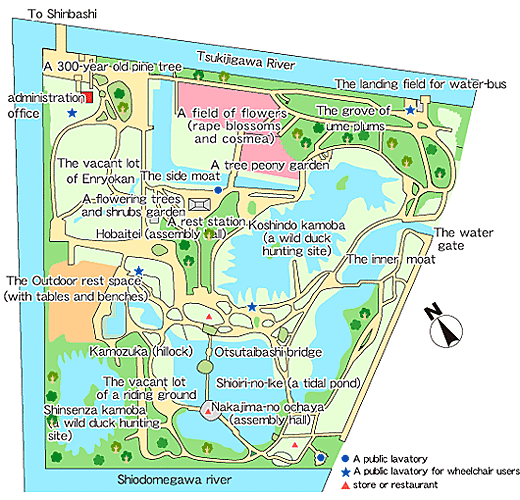 Moving on
From here you can hike over to nearby Shinagawa to get on the JR Yamanote Loop line or any of the subway lines.
But I'd recommend making your way to the southeast corner of the gardens where you can board a water bus to Asakusa enjoying a leisurely sightseeing cruise 35-minute cruise up the Sumida River to Asakusa, one of the most historic districts in Tokyo.
Hamarikyu Gardens entry fee: ¥300 (**you can also use your IC Transit card!)
**Check the water bus timetable at the Garden ticket counter.
Water Bus Fare one way to Asakusa: Adult (12 years or older): ¥800 / child: ¥400
ASAKUSA

(浅草)
Asakusa is a focal point for all Japanese though it was once nothing more than a small fairly insignificant fishing settlement 0n the Sumida River.  With the establishment of Sensō-ji temple, dedicated to the Kannon, the deity for Mercy and compassion, its importance grew as a pilgrimage destination.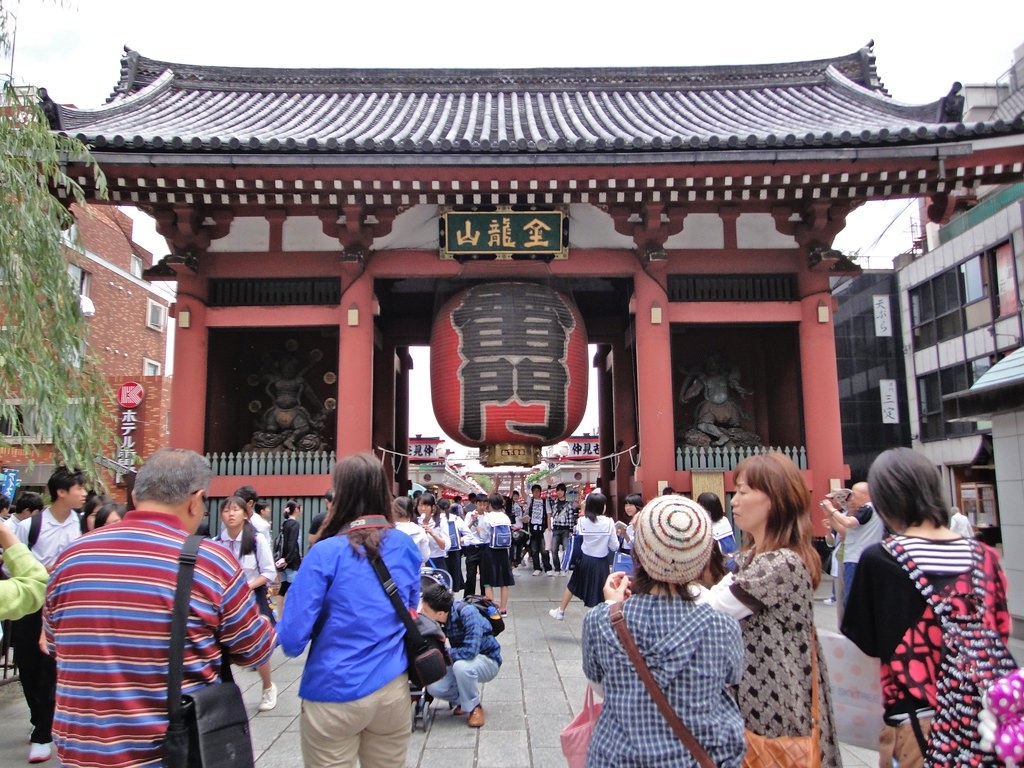 Fun Fact: The name of the temple comes from an alternative way of reading the Chinese characters for Asakusa (sensō/浅草), and ji another way of reading the Chinese characters for temple (寺)
A thousand years later the former fishing village has expanded and assumed the name Edo. Tokugawa Ieyasu founder of the Tokugawa shogunate dynasty the final fuedal age ruling dunasty, decided the village suited his strategic political ambitions and made it his base, which eventually became the succeeding capital, Tōkyō.
Interestingly, and for some vistors might seem counter-intuitive, during the Edo period, Asakusa evolved into the designated entertainment district (red-light district) and really stayed a vibrant main entertainment district, including kabuki and later cinemas, through to much of the 20th century, though it's now been overtaken by Shinjuku.
Happily for local vendors, the opening of the 634-meter-tall Tokyo Skytree in 2011, a twenty-minute walk across the Sumida River from Asakusa, has led to an increase in the popularity of Asakusa (the quarters away from the temple focus) for domestic tourists again.
It is still the centre of Tokyo's shitamachi (literally, geographically "low city"), one of Tokyo's districts where an atmosphere of the old Tokyo survives. For the historically curious, the golden years of Asakusa are vividly portrayed in Yasunari Kawabata's novel The Scarlet Gang of Asakusa (1930; English translation, 2005)
During World War II, the Asakusa district was targeted by firebombing and in one night the entire district was bombed and destroyed, including the temple and killing tens of thousands of inhabitants. The town and temple were rebuilt and became symbols of rebirth, and peace to the Japanese people.
What to do in Asakusa?
The focus of the activity is the temple and I've got a couple of other recommendations but let's start with the temple, and where better to start than at the entrance?
Kaminarimon (雷門/thunder gate)
Kaminarimon gate is known around Japan not only as a symbol of Sensō-ji, but symbolic of the whole of Asakusa, and as a landmark, it is very convenient as a major meeting spot.
Kaminarimon gate was first erected in mid 10th Century at another location but relocated and installed here in 1635. It has burnt down a number of times – the current structure dates from 1960.
It houses four statues. On the front of the gate are the statues of the Shinto gods. Fearsome-looking Fūjin and Raijin are displayed. You will see a gate like this housing the same guardians at most major temples throughout Japan.
the statue of Fūjin, literally the god of wind, is located on the east side of the gate. Raijin, literally the god of thunder and lightning, is located on the west side.
These are deities to protect a temple from natural disasters. Wind representing typhoons, and thunder or lightning which was often started wildfires, a regular cause of urban destruction in Japan throughout its history.
Passing through the gate if you look at the base of the lantern you'll see a dragon hiding there! This is because, in fact, the official name of Sensōji Temple is "Kinryuzan" (金龍山)or "Golden Dragon Mountain", which is displayed on the green plate above the lantern.
There are two additional statues that stand on the reverse of the gate: the Buddhist god Tenryū on the east, and the goddess Kinryū on the west side.
Giant Chochin (lantern)
The massive red chōchin lantern hanging in the center of the Kaminarimon gate, is 4 meters high, 3.4 meters in circumference, and weighs 670 kilograms (1,480 lb).

This lantern is not the original. It's a restoration that was donated in 2003 in commemoration of the 400th anniversary of the start of the Edo period by Konosuke Matsushita, the founder of the Matsushita Electric Industrial Co. (now known as Panasonic).
The front of the lantern displays the gate's nominal name, Kaminarimon; in fact, the gate's official name is Fūraijinmon (風雷神門) and is painted on the back.
If you look at the base of the lantern you'll see a dragon hiding there! This is because in fact, the official name of Sensōji Temple is "Kinryuzan" (金龍山)or "Golden Dragon Mountain", which is written on the green plate above the lantern.
Sensoji Temple 浅草寺
Sensoji Temple is Asakusa's main attraction. It is the first established temple in Tokyo – historical records show the temple was established in mi 7th century CE – and it is certainly one of the first few in Japan.
The name comes from an alternative way of reading the Chinese characters for Asakusa (sensō/浅草), and ji another way of reading the Chinese characters for temple (寺)
According to legend, two fishermen recovered a statue of the Kannon, the deity for Mercy and compassion in the river.
Their village chief either saw it as a sign or possibly (cynical old me) saw it as potential to grow the village. He remodelled his own house into a small temple and enshrined the statue there.
As expected the shrine became a focal point for worship and the little village eventually developed in the town of Edo.
When the Tokugawa shogunate deregulated the temple from its status as Tokugawa Clan custodial temple, the temple only grew in popularity – one assumes that because it was no longer the "shogun's temple" and a closer average Taro's kinship with it more possible.
There are a couple of ways to approach the temple but the main access is through the Kaminarimon Gate then following the souvenir shopping street that stretches out on front of you to the inner gate; this is the Nakamise and has been providing temple visitors with a variety of traditional, local snacks and tourist souvenirs for centuries.
Feudal-age entrepreneurs and consumers, tourists (in the feudal age they tended to be pilgrims) differ little from their 20th-century counterparts. It's worth taking a leisurely look while strolling your way toward the main temple.
Hōzōmon 宝蔵門 and Gojū-no-to 五重塔
Hōzōmon is Sensōji Temple's actual main gate (originally from the early 10th century like the Kaminarimon, but of course rebuilt, what's more, constructed with fireproof materials!) with its two Nio statues/protectors.
Its name Hōzōmon (translates as Treasure House Gate) and its considerably more opulent design define it. the upper story of the Hōzōmon stores the Sensō-ji's treasured sutras. These treasures include a copy of the Lotus Sutra designated a Japanese National Treasure and the Issai-kyō, a complete collection of Buddhist scriptures designated an Important Cultural Property.
Unlike the Kaminarimon it houses only two guardian statues. The story goes that the models for them were 1960s sumo wrestlers Kitanoumi (on the left) and Myobudani Kiyoshi (on the right). The sculptor who made the right statue comes from a city called Murayama in Yamagata Prefecture.
To honor him and the fact that Sensōji was kind enough to offer him the opportunity to showcase his work (in such a grandiose way!), 800 citizens of Maruyama get together every few years and create a pair of enormous waraji straw sandals—you will see them at the back side of the gate but don't get too close: they weigh about 2.5 tons each!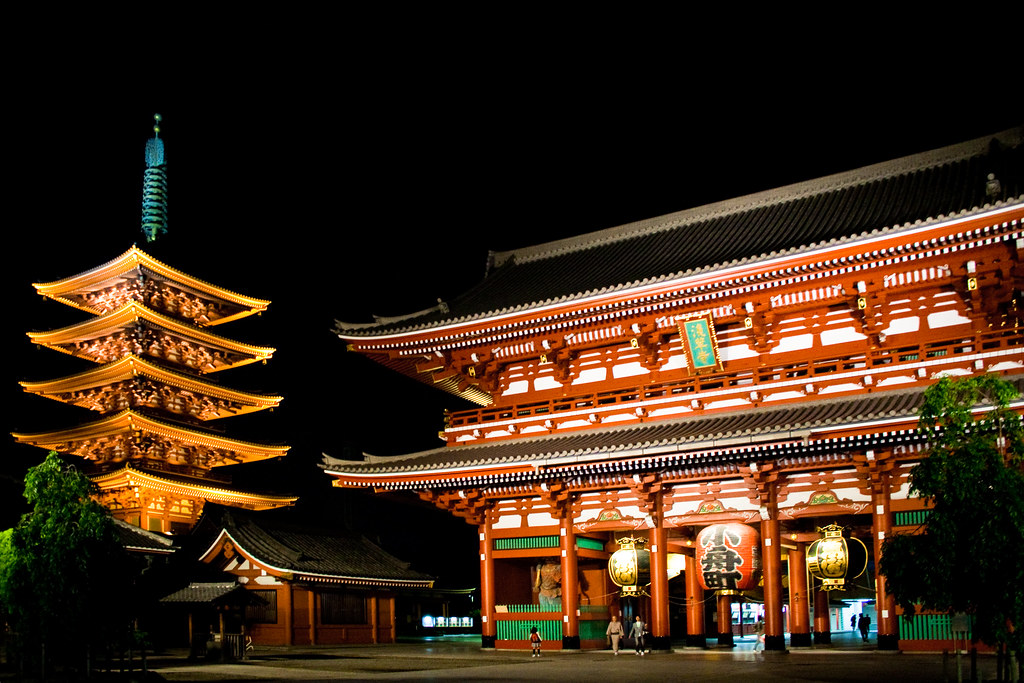 Fun fact:
In Japan, pagodas commonly tend to be five-story pagodas, with each story representing one of the five elements: earth, water, fire, wind, and void (sky, heaven). The decorative ornament at the apex of the roof is also divided into five parts.
In the courtyard, there is a massive ginkgo tree that was hit by a bomb in the air raids, perceivably dead but came back to life in the husk of the old tree and is similarly a symbol as the temple itself.
Kappabashi 合羽橋
Kappabashi is actually a street but is nominally referred to as Kappabashi. It is one of those both useful (in the market for Japanese crockery? Or a nice hocho knife? ) and fun, off-beat destinations.
However, as the name is a homophone with the popular mythical creature, kappa (河童), the shops along the street have officially adopted the kappa as their mascot
It is a street pretty much smack-dab between Asakusa and Ueno pretty much entirely dedicated to supplying the restaurant trade in Tokyo.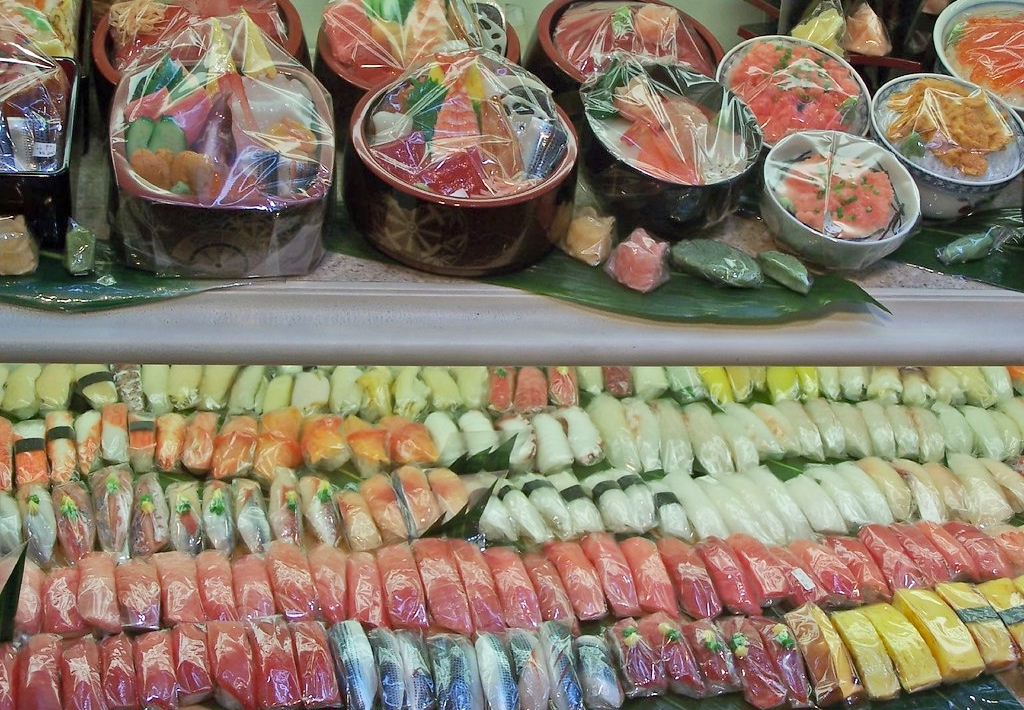 Everything from knives and various kitchen utensils, mass-produced simple or even kitsch crockery, restaurant furniture, ovens, and decorations, through to esoteric items such as the plastic display food (sampuru, derived from English word sample) found outside Japanese restaurants. Easily spend an hour browsing there.
The street's name is believed to come from either the traditional raincoats (kappa 合羽) of nearby residents which were hung out to dry on the bridge or possibly from a local merchant named Kihachi Kappaya who funded the project to build the Shinhorikawa River for water management.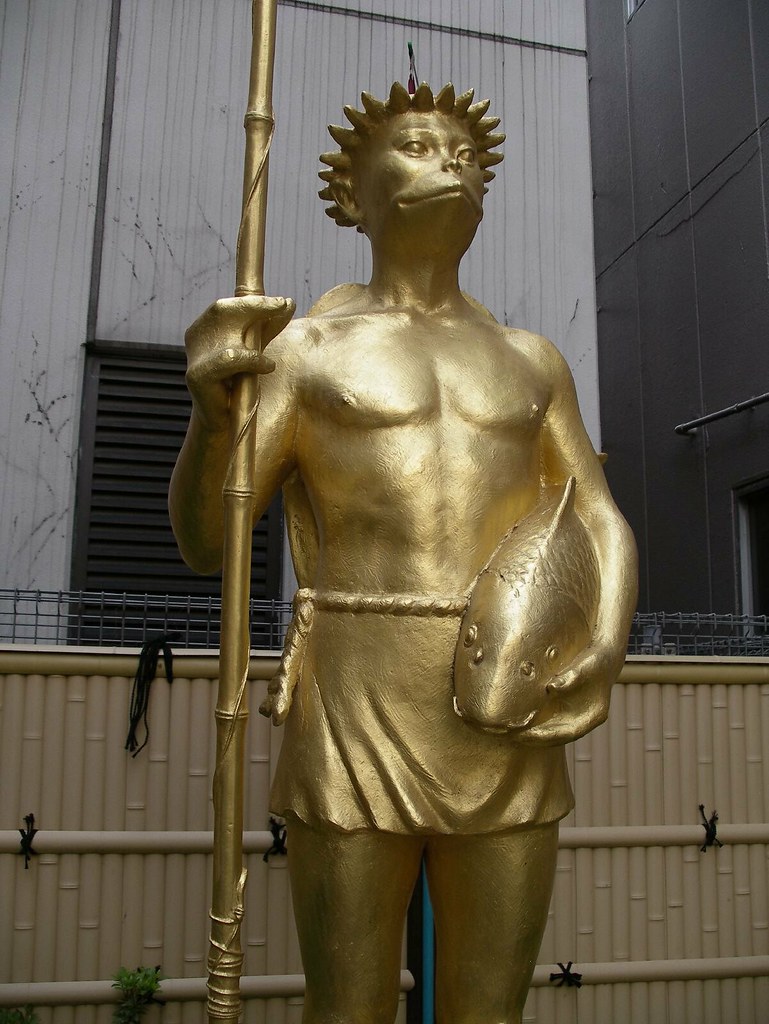 If you did come up on the water bus, on arrival it would have been hard to miss some pretty interesting architecture across the river and to the north.
ASAKUSA ARCHITECTURE
The Sky Tree is (スカイ・ツリー)is tallest tower in the Japan. At a height of 634.0 metres (2,080 ft), it is second only in height in the world to the Burj Khalifa (829.8 m/2,722 ft) skyscraper in Dubai. It was conceived as a broadcasting and observation tower to supersede the Tokyo Tower, which had become redundant due to radio wave interference from surrounding infrastructure.
It is just a short train ride from Asakusa. It comprises a large shopping complex with an aquarium at its base and two observation decks offering spectacular views out over Tokyo. The two enclosed decks are located at heights of 350 and 450 meters. The lower deck spans three levels with great views from all of its floors. The upper deck has views out across the Kanto region.
Asahi Brewery Company buildings
The first Asahi Beer debuted in 1892. Much of the real estate in Asakusa is owned by the Asahi Brewery Company.
Asahi Beer Tower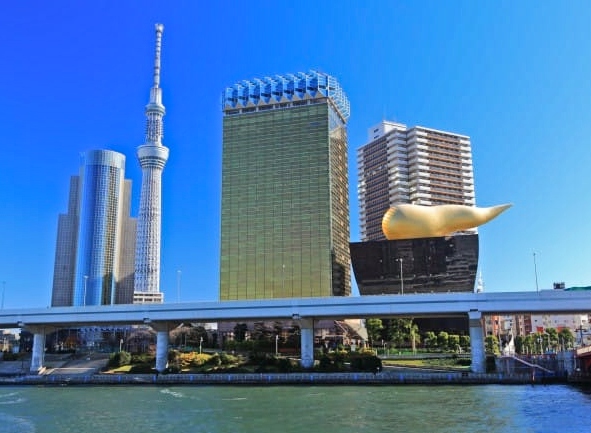 The tall golden building is Asahi Beer Tower also known as the Asahi Super Dry Building. This is the 22-story headquarters for Asahi Breweries, and it is meant to resemble a well-poured glass of beer,
It is constructed of metal and weighs over 300 tons. Constructed using submarine construction design technology. The colour is simulated gold leaf to make it gleam in sunlight.
The 22nd floor of the Asahi Super Dry Building has two of Japan's most popular bars plus a selection of good restaurants. A small annex building at the front of the complex contains a "Super Dry" bar on the ground floor and an izakaya-style restaurant on the 2nd floor known as the "Asahi craftsmanship Brewery" where you can try some limited-run Asahi beers.
Flame d'Or
The Asahi Super Dry Building is flanked by a jet-black structure topped with a piece of modern sculpture. This is the Asahi Beer Hall or 'Flame' Building on the Asakusa east banks of the Sumida river designed by French designer Philippe Stark. Completed in 1989, it is considered one of Tokyo's most recognizable modern structures.
The eponymous 'flame', a huge golden piece of art juxtaposed atop the obelisk-like black building, is intended to represent the freedom and grace of a good head of foam on a glass of Asahi beer. Its official name is "Flame d'Or" which is French for "Golden Flame". According to Asahi Breweries, it represents "the burning heart of Asahi Beer. It is in fact dubbed by many less kindly as the 'flying golden turd' or 'golden tadpole'. Speaks volumes about Japanese construction project management, though…
By now you must be hungry and you will find a really diverse range of eateries in Asakusa to satisfy every taste or preference. Or, stroll down the arcade immediately adjacent to the Tokyo Metro Subway entrance. If you want to keep following these recommendations. It's on to Shibuya!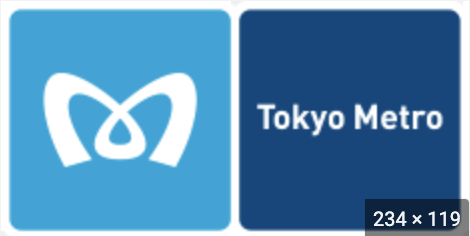 From Asakusa, the most efficient way to move on is via the Tokyo Metro – you cantake the Ginza Line (platform 2) direct (approx. 35 mins) to Shibuya.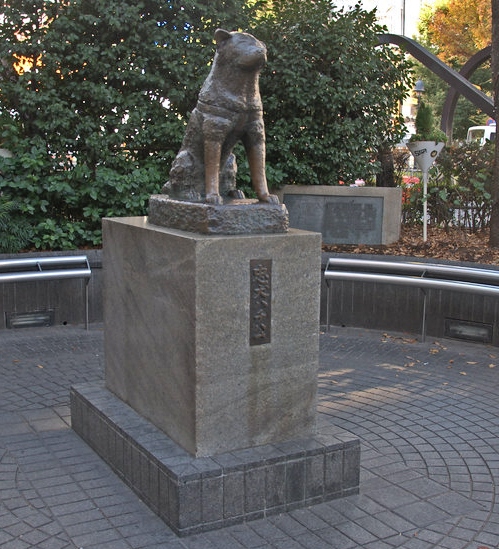 SHIBUYA 渋谷
Shibuya Station has recently been completely revamped so the simplest way to navigate is to look for signs designated "to Hachiko", which is a monument dedicated to a dog that became a latter-day folk hero associated with Shibuya Station and the most common rendezvous spot.
Shibuya

Crossing and Bird's Nest Observation Deck and Graffiti Room
Shibuya is another of the "must-do's" in Tokyo. It is a hub of youth culture, but particularly also where the generational line blurs. Just meandering, people-watching, and popping in and out of stores or department stores is its own kind of entertainment. Probably the main attraction is "the scramble"
The Scramble Crossing
Well, I wouldn't call it a scramble per sait! There's no anxiety or danger.
Just cross as you would anywhere else at any other time. But when it is crowded, peak hour, there is something about the anticipation as each change of lights nears, the crowd grows.
And then the light changes to green (fun fact: actually in Japanese, translated it's a blue light!), and the human waves wash across from opposite sides, somehow blending without bumps or mishaps don't linger too long, as once the light turns red again the crossing has to be clear.
The best time to go for this activity alone is around the evening rush, which is between 6 pm and 9 pm during the weekdays.
On weekend days or national holidays, it gets crowded a bit earlier and you will catch the greatest number of people around 3 pm to 7 pm. If you come in the morning, it is usually not so crowded so if you want to experience the Scramble Crossing to the fullest, it is better to plan to come a bit later.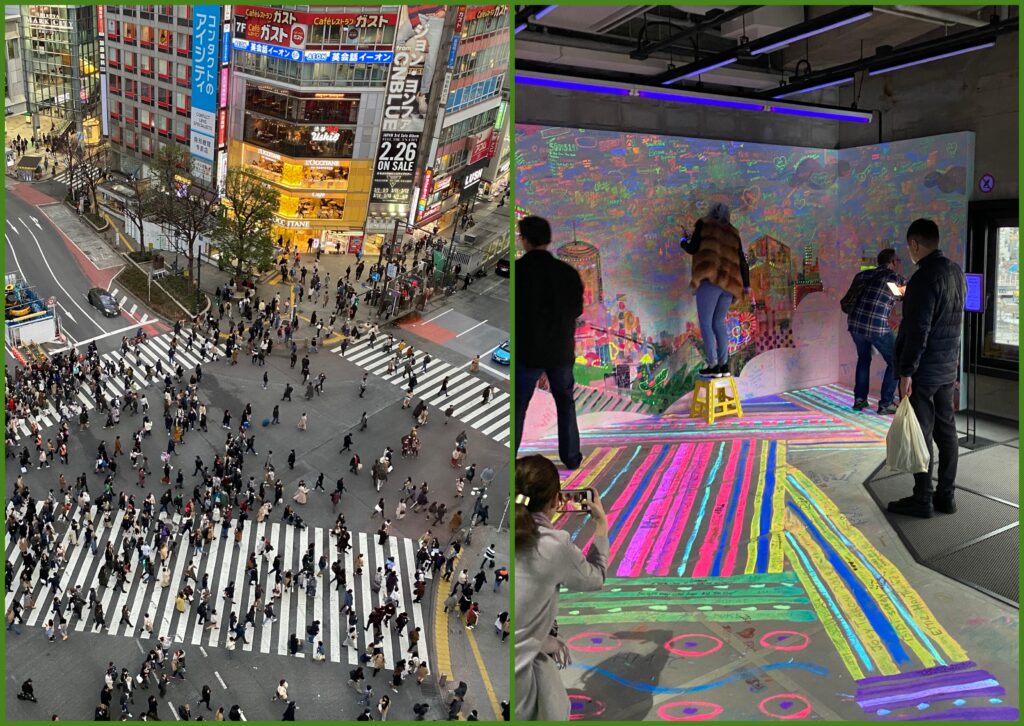 Bird's View Observation Deck
With the station at your back to the station building, diagonally opposite and to the right with a cylindrical design is Magnet by Shibuya 109.
As well as being a "magnet" for fashion-conscious hip young Tokyoites, on the top floor there is a cafe with a spectacular view of the Scramble Crossing. It is a great place to take a break and just observe the craziness from above.
As you might expect, window seats are a premium, so instead, on the 8th floor, Magnet has an outdoor deck with an observation deck with a nice unobstructed bird's-eye view of the Scramble Crossing.
Doodle Room
There is also a hip graffiti room – called the Doodle Room – adjacent worth checking out. In the context of the best timing for the crossing experience mentioned above, depending on the time of day and time of year for visibility's sake you might want to plan ahead for that.
11 AM – 11 PM
Mag's Park Rooftop, Magnet by Shibuya 109, Tokyo
¥300 entrance fee
You can then get there on the JR Yamanote loop line train bound for Shinjuku or Ikebukuro one stop to Harajuku (2 minutes).
HARAJUKU

原宿

Harajuku (原宿) is the area around Harajuku Station. It is the Mecca of Japan's most extreme teenage cultures and fashion styles, but also offers shopping for adults and some historical sites.

Right opposite the station is a shopping complex With Harajuku that includes IKEA and Uniqlo.

The focal point of Harajuku's teenage culture is Takeshita Dori (Takeshita Street) and its side streets, which are lined by many trendy shops, fashion boutiques, used clothes stores, crepe stands, and fast food outlets, milling flocks of fashion and trend conscious teens.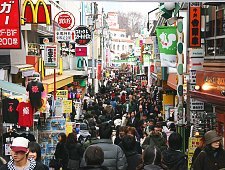 The odd cos-player will probably happily let you take a photo. Be a little wary of side streets where often large black guys will try to hustle you in to spend too much money on groovy hip-hop gear. But there's much more than immediately meets the eye.
Within wandering range is the Nezu Museum Nezu Museum with its impressive collection of various Asian art as well as a traditional Japanese garden and the small but elegant Ota Museum exhibiting beautiful Ukio-e prints.
But actually, just exploring the back shops which is a hive of shops, cafes, small galleries, and jewelry accessories, shoes. Yoyogi Park flanks the stain and within you have the eminent and famed Meiji Shrine, where on a weekend you might even come across a wedding!
Just south of Takeshita Dori and over twice its length is Omotesando, a broad, tree-lined avenue sometimes referred to as Tokyo's Champs-Elysees. Here you can find famous brand-name shops, cafes, and restaurants for a more adult clientele.
The stylish Omotesando Hills complex was opened in 2006 and targets fashion-conscious urbanites in their 30s and 40s, while Kiddy Land has hundreds of unique toys for kids of all ages.
Or the (rather kitsch?) Oriental Bazaar, probably one of Tokyo's largest souvenir shops, is very popular among foreign travelers in search of typical Japanese souvenirs, such as kimono, tableware, lamps, dolls, furniture, and samurai-related goods.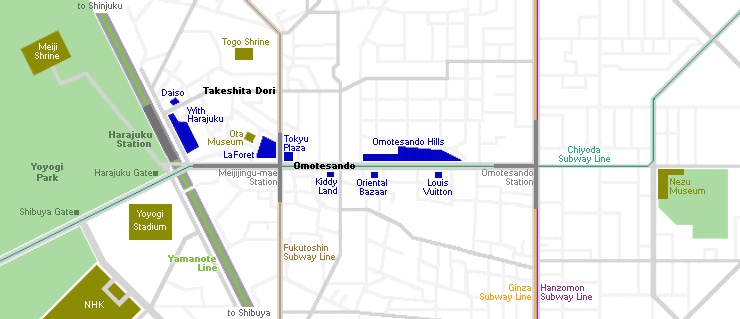 SHINJUKU

新宿

Shinjuku is the entertainment district of Japan and a major transit hub and no question that it's one of Tokyo's most popular neighbourhoods. It's pretty good for just about some of the best things you want to do in Tokyo – sightseeing, shopping, eating, and drinking.

Streets flanked by endless columns of neon lights, it's noisy, and crowded pretty much all the time good for just people watching edge photography (be a little careful who you photograph, but it has some peaceful spots, too. Here are some choices of the best things to do in Shinjuku, day or night.

Most of the activity is centred around two areas: Shinjuku Station and Kabuki-cho. More bout Kabuki-cho further into this article but first things first!
Shinjuku Station 新宿駅
Shinjuku Station is reportedly the world's busiest railway station, handling more than two million passengers every day. It is THE main transportation hub of Tokyo if not Japan focused by the main JR station including the JR Yamanote Line loop line and the directly adjacent private railways and subway lines comprising a total of 35 platforms.
It also has a large bus terminal, named Busta Shinjuku, conveniently located on top of the railway station. If you head out from or come into Tokyo on one of the many inter-metropolitan long-distance buses (commonly referred to as "Highway Buses") Shinjuku is one of Tokyo's major stops.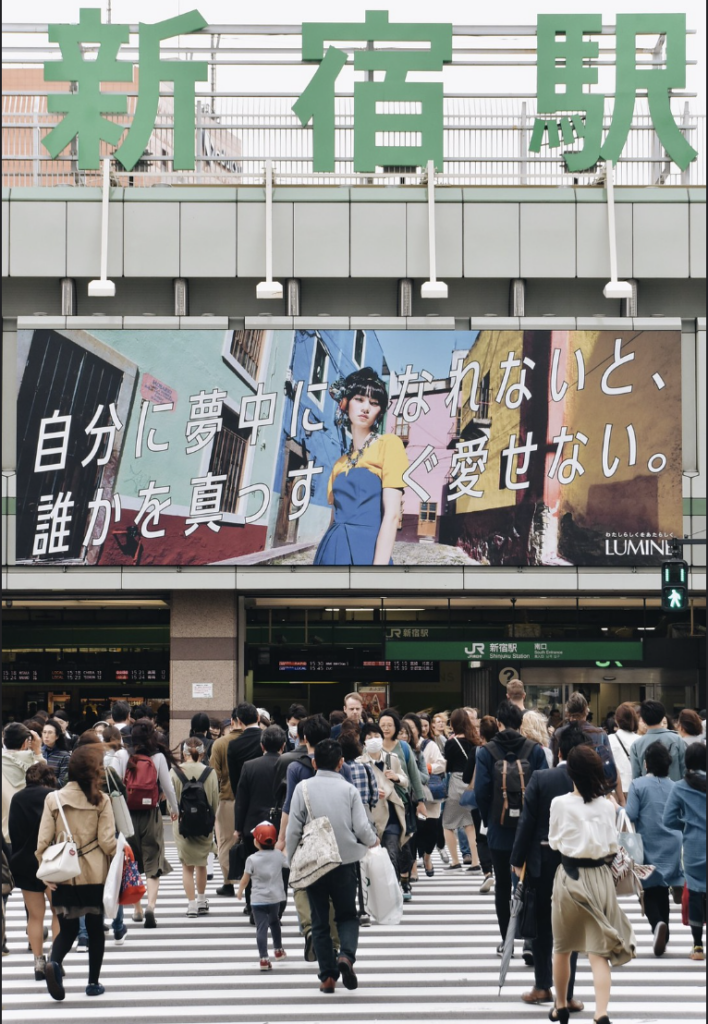 It is surrounded by, actually often directly connected to giant shopping malls and flanked by Kabukicho, Tokyo's most famous red-light district. Towering home electronics stores sell state-of-the-art electronics to locals and tourists alike – and everything is connected by a vast underground network of exits, arcades, and tunnels, all belonging to Shinjuku Station.
The hub deserves its reputation as a labyrinth of over 200 entrances that, at times, can be seemingly impossible to navigate. Most people new to Tokyo easily get lost…and some are never found or are found years later homeless and babbling incoherently …(joke).
But here is a guide to the station. And even just knowing how to find the exits is a real boon.
Shinjuku Gyoen 新宿御苑
One of the best things to do in Shinjuku, particularly for gardening buffs. Or why not have a picnic in Shinjuku Gyoen? This garden is composed to be a little out of the ordinary for Japanese gardens. It's a lovely oasis of green in the midst of Shinjuku's concrete and clamour.
There is a traditional Japanese landscape garden featuring large ponds dotted with islands and bridges. But includes a formal French garden, an English landscape garden featuring wide, open lawns surrounded by flowering cherry trees, forested areas, lawns and a restaurant, an information centre, and an art gallery.
There is also a beautiful greenhouse with many tropical and subtropical flowers.
Shinjuku Gyoen is a former Imperial property turned public garden. is pretty throughout the year but especially during spring and fall. The cherry tree groves make it ideal for a Hanami or Koyo viewing picnic.
Hours:
9am-4pm (Closed Mondays)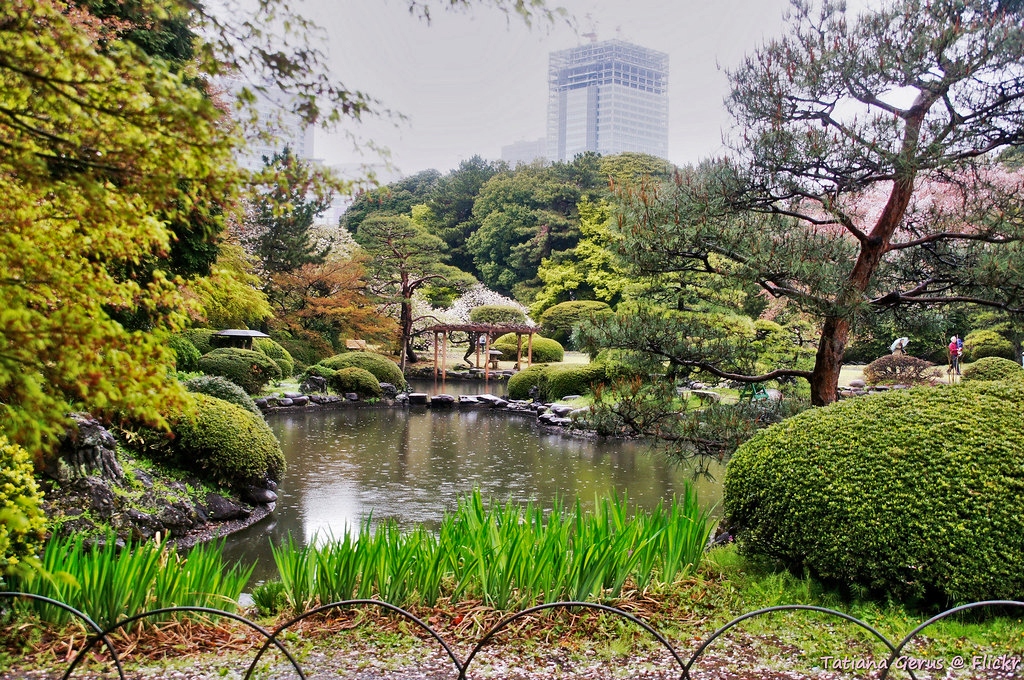 Tokyo Metropolitan Government Building Observatory
Tokyo's capital building has free observatories at the top of both of its North and South towers. You a fabulous panoramic view over the whole city, and if the conditions are right you might even see Fuji san to the west.
The observatories are open late, so you can see the nighttime twinkly version of Tokyo, too. Designed by Kenzo Tange, Japan's most famous modern architect, the Tokyo Metropolitan Government Building also doubles as an architectural attraction. It's in Nishi Shinjuku, on the west side of Shinjuku Station.
Take the dedicated "Observatories Elevator" from the first floor of No. 1 Building. It can sometimes take as long as 20-30 minutes to get to the elevator.
Hours
10:00 to 20:00 (north observatory until 17:30 except when the south observatory is closed)
Closed
Saturdays, Sundays, and national holidays and on occasional inspection days.
Important: The north observatory is closed on the 2nd and 4th Monday of each month (or next day if Monday is a national holiday), while the south observatory is closed on the 1st and 3rd Tuesday of each month (or the next day if Tuesday is a national holiday)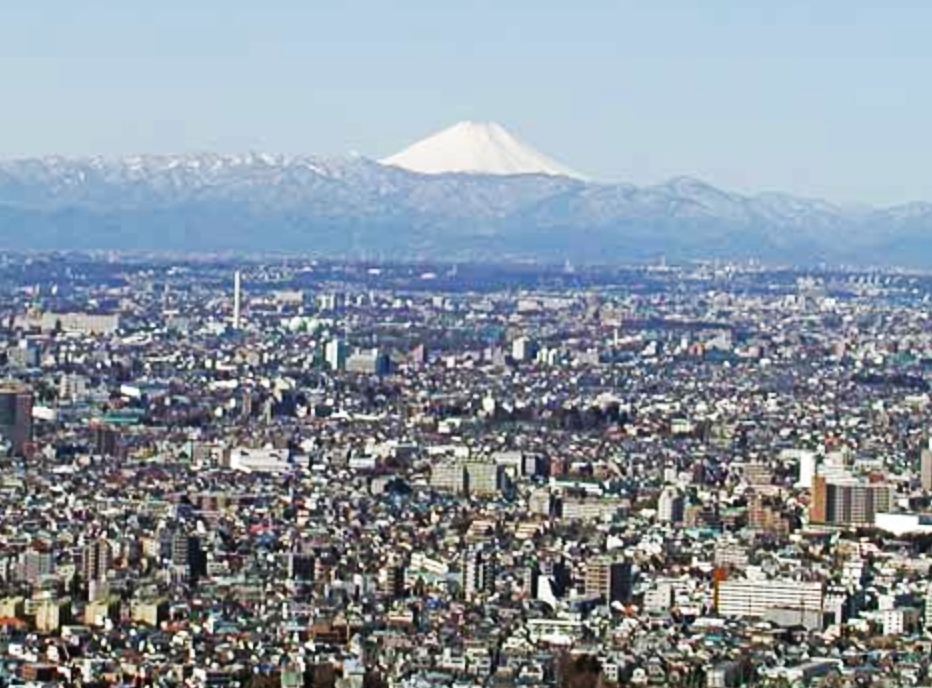 Kabuki-cho
Okay cutting now to the nitty gritty. Kabukicho is the red-light district of Tokyo. Surprised, right? What, no kabuki?
Post-war, there were plans to make it a hub for Kabuki Theatres, but somehow those plans got waylaid. It is positively buzzing most of the time with activity. Also for you gamers, it is also the model for the fictional district of Tokyo for Sega's Ryū ga Gotoku media franchise, known internationally as Yakuza.
It is one of the domains of the underworld in Tokyo. It's pretty safe but perhaps wise to pay attention to who or what you are photographing.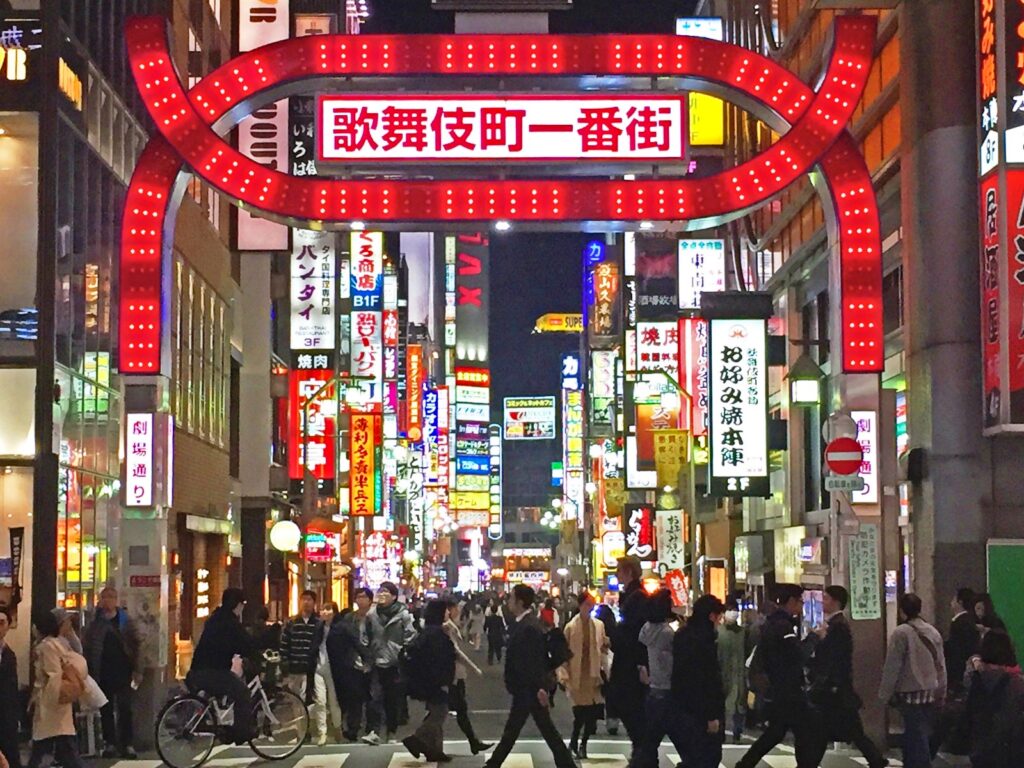 THE EDO TOKYO MUSEUM

江戸東京博物館

Currently closed for renovations. This notice will be updated but tentatively slated to reopen 2026.

The Museum is housed in a unique-looking building in Ryogoku (the district where many Sumo stables are located). Featuring city models and displays it preserves and vividly illustrates the cultural heritage of Edo and Tokyo between 1590, through the Edo period, and of Tokyo up to 1964.

The displays of numerous models of towns, figurines, and life-sized figures in the permanent exhibition provide visitors a really great opportunity to experience and learn about various aspects of Edo and earlier Tokyo, Edo Period

Through the displays of numerous models of towns, figurines and life-sized figures, and artifacts learn about the architecture, the way of life of people, their cultural heritage, the political climate, and the commercial situation.
THE IMPERIAL PALACE EAST GARDENS
The Imperial Palace East Gardens are part of the inner palace area. This was once a section of Edo Castle, the seat of government throughout the Edo Period.
It's free and you wander to your heart's content viewing seasonal flowers in The Emperor's Secret Garden Or appreciate the Museum of Imperial Collections exhibits artworks owned by the imperial family.
The moats, walls, entrance gates, and guardhouses are the original, built by the Tokugawa shoguns.
The gate is a five-minute walk from Otemachi Station on the Chiyoda, Tozai, Marunouchi, Hanzomon, and Mita subway lines, and a 15-minute walk from Tokyo Station.
Opening hours:
1st March to 14 April 9:00 a.m. – 5:00 p.m.
15th April through August 9:00 a.m. – 6:00 p.m.
1st September through September 9:00 a.m. – 5:00 p.m.
1st October through October 9:00 a.m. – 4:30 p.m.
1st November to February 9:00 a.m. – 4:00 p.m.
Closed
Mondays and Fridays (except for most National Holidays)
From 28 December to 3 January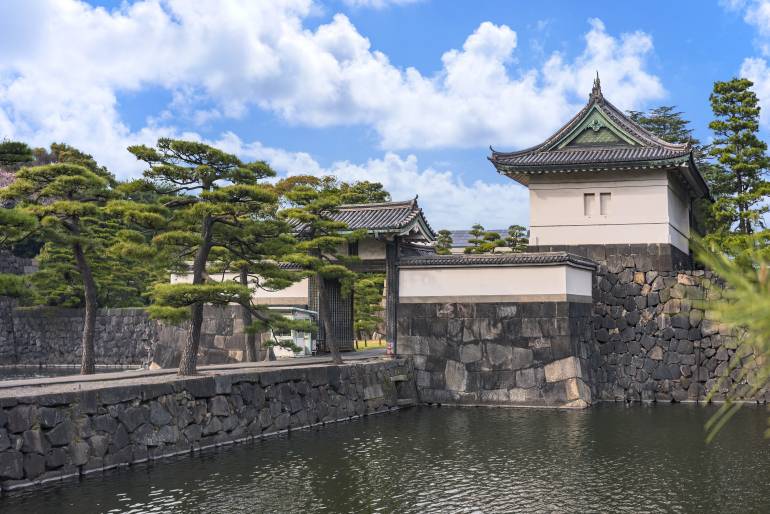 UENO
Like nearby Asakusa, Ueno is part of the Shitamachi district of Tokyo, where historically the working-class area rather lived.
The two main areas of focus (aside from Ueno Station which is another of Tokyo's transit hubs) are Ueno Park and Ueno Zoo which is in turn home to the beloved Chinese panda Xiang Xiang.
The park also hosts ornate Shinto and Zen landmarks, including a 17th-century temple dedicated to the deity Benzaiten, situated on an island in the park.
You'll also find two of Tokyo's Tokyo's finest cultural sites. The Tokyo National Museum displays Japanese antiquities, while the National Museum of Western Art houses many western influences of art including works by Van Gogh and Picasso.
The park is also another favourite spot for picnic parties Spring for its sakura explosion of cherry blossom pink, and the vibrant purple and blue lotus flowers in the summer, Ueno Park is alive with colour.
Follow the train tracks of the Yamanote Line in the direction of neighbouring Okachimachi Station to experience Ameyoko – once a post-war black market, now a bustling shopping street. The distinctive calls of market sellers can be heard selling everything and anything from clothes, spices, cosmetics, meats, and fresh fish.¥
Last on my list is what we used to call Gaijin Ghetto…but in recent years it has upped the ante and become an interesting gawk at the very least:
ROPPONGI

六本木

Roppongi has been the city's most popular nightlife district among foreigners for decades with lots of foreigner-friendly bars, restaurants, and nightclubs servicing a large local resident and intermittent ex-pat community.
Two of Tokyo's largest recent redevelopment projects, Roppongi Hills and Tokyo Midtown changed the district's face in the 2000s and expanded Roppongi's appeal to a wider range of visitors and residents.
While the night is still a kind of buzzing all hours apart atmosphere during the day, the elegant retail, leisure, and residential space, offices, and luxury hotels not to mention the appearance of several art museums, Roppongi has also developed a reputation as a cultural centre and gained an air of respectability.
The National Art Center is one of Japan's largest art museums, and together with Roppongi Hills' Mori Art Museum and Tokyo Midtown's Suntory Museum of Art form the "Art Triangle Roppongi".
Roppongi and the surrounding districts of Azabu, Hiroo, and Akasaka are home to many embassies.

Thanks very much for reading! 🙇
A final word about this post.
The above list does not pretend to be exhaustive, and you may even be saying to yourself "oi, what about…?", but I trust you'll find this information helpful in really enjoying your visit to Tokyo.
Why not break up your stay with the best day and overnight trips out of Tokyo? See my soon-coming blog: The Best Day and Overnight Trips from Tokyo
I recommend following up this blog with other great places to visit in Japan starting with my list of The Best Places to Visit in Japan.
Also, I'd like nothing better than to share my town with you: Check out my reviews and testimonials and do look at the wonderful described in my private tours list for individuals or small groups.
If you plan to Hiroshima (my town), I'd love the opportunity to share any of the tours I have on offer with you, or to create a bespoke tour for you. I've been a tour leader and guide through Japan since 2006
Here are some reviews from my tours over the years,
Feel free to just reach out to me with any questions I may be able to help you with.
Wishing you a wonderful visit to Japan