Kyōto is simply a must. It is the "Thousand Year Capital" and was indeed capital from 794 to 1868.
Originally it was founded as Heian-kyo ("Capital of Peace and Tranquility") by the emperor, and it was built as a scale replica of the then capital of the Tang empire, Chang'an (modern-day Xian).
Though it was founded to relocate the capital to separate its court from the ever-increasing influence and power of the Buddhist priests in Nara, it is replete with beautiful ancient temples dedicated to the faith.
The name Kyōto actually translates as Capital City, but it has been called a variety of names through the centuries—Heian-kyō, Miyako ("The Capital"), and Saikyō ("Western Capital"), its initial name after the Meiji Restoration (1868).
It was finally established as Kyōto in 1889. Kyōto is considered the cultural capital and is richly steeped in a thousand years of cultural development and tradition.
Fortunately, the city was spared from large-scale destruction during World War II (fortunately Allied powers that be had the good sense to acknowledge that post-victory reformation would be all the more difficult if they wantonly destroyed the historical, cultural soul of Japan) and its prewar cultural heritage has mostly been preserved.
It truly is the garden city, but replete with bustling city streets, secret ancient neighbourhoods and silent laneways, willow tree-lined canals, and bamboo forests to clear your head.
How long should you spend there? I think anywhere from three to five nights is perfect.
There is so much to see in Kyoto and here following are several recommendations that include the principal sightseeing attractions for a fabulous few days in Kyoto. If you'd like to "try your hand" at something, for example, shodo (oriental calligraphy), ikebana, origami (paper folding), cha no yu (tea ceremony), koto (Japanese harp) have a gander at this link.
The best things to do in Kyoto
You could just simply follow this map, or you can jump to any selected destination: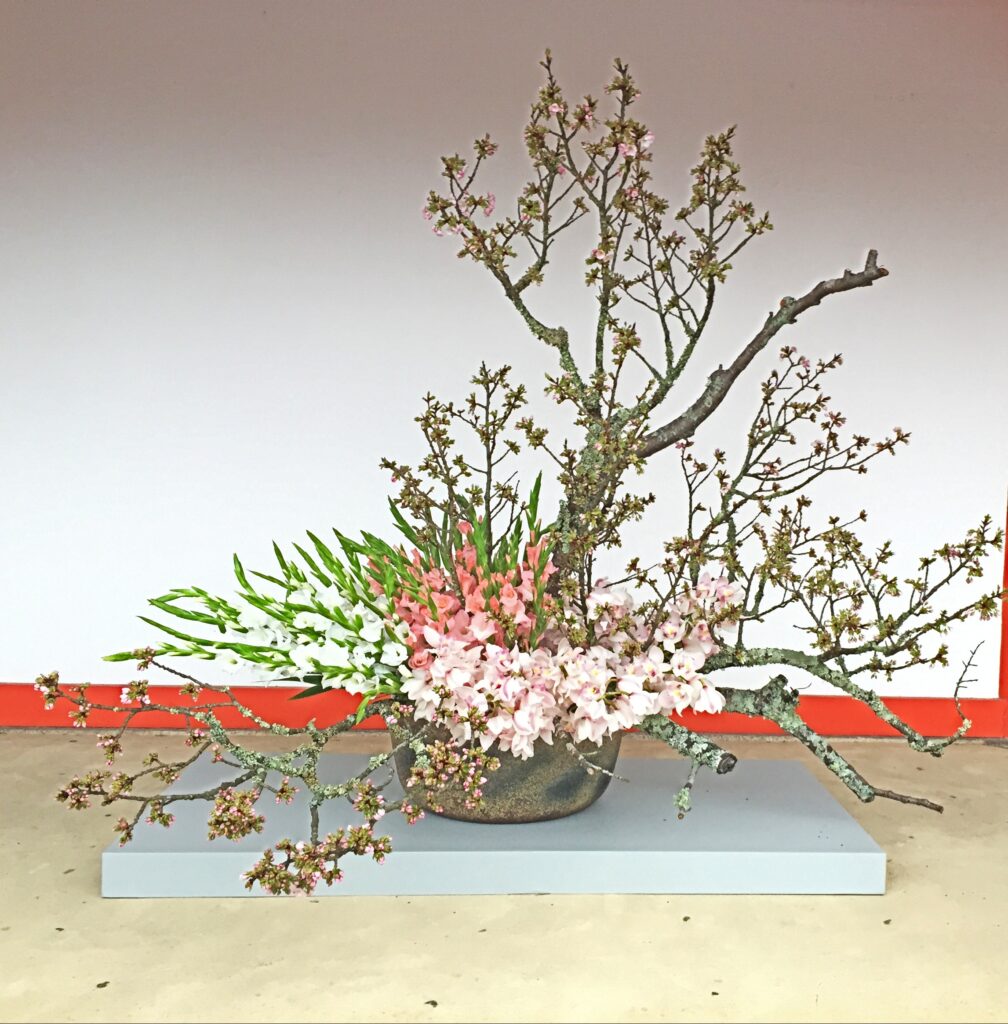 Fushimi-Inari Shrine 伏見稲荷大社
Certainly, one of the must-sees in Kyoto, or in Japan, for that matter.
It is famous for its thousands of vermilion torii gates, which straddle a network of trails behind its main buildings.
The trails lead into the wooded forest of the sacred Mount Inari, which stands at 233 meters (764 feet) and belongs to the shrine grounds. The main trail will take you up and over and down through neighbourhood streets.
It's a good hike and even at a slow pace, you can do the entire walk in about an hour. It's a great way to start the day, and at the end, you will find the best coffee in the Kansai region (certainly in the top 5 in Japan – I qualify that with the fact that I am a qualified barista and ran a mobile cafe for 5 years) at Vermillion Cafe (actually, if you remember, tell the owner that the Aussie from Hiroshima sent you!).
Now, during the day Fushimi-Inari Shrine is pretty packed, so, to get the best and quietest experience, I really recommend visiting early – around 7:30 am; by 9 am crowds start to gather.
Having said that, personally, I tend towards early morning, but even late afternoon visits to Fushimi-Inari when its numbers have thinned out is a great experience.
Fushimi Inari Shrine is two stops on the Nara JR line from Kyoto station.
open 24/7 free entry
If you've followed my advice it's now time to head back to your hotel and breakfast or breakfast at Kyoto station.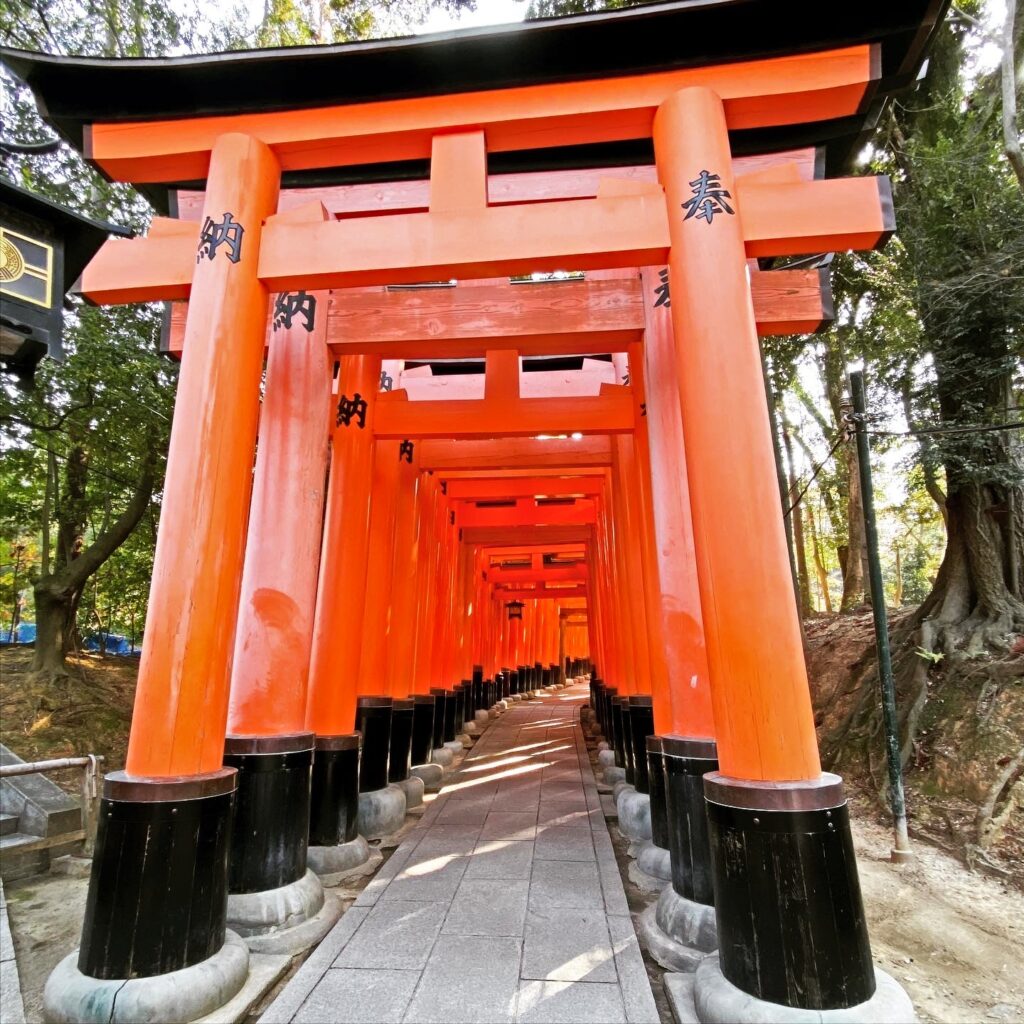 Sanjusangendo 三十三間堂
San-ju-san-gen-do Is the customary name for the temple Rengeo-in Temple located on the east side of Kyoto, opposite the fabulous Kyoto National Museum.
The name literally means "Hall with thirty-three spaces between columns", describing the architecture of the long (at 120 metres, it is the longest temple hall in Japan) main hall of the temple.
The hall houses 1001 statues of Kannon, the goddess of mercy and I kid you not, the contrast between the temple's simple exterior and ornate interior is a unique atmosphere to walk into.
Each Buddha is covered in gold leaf, and though they look similar, every single one is slightly different. No matter if you are religious or not, simply, it is my conviction that atmosphere-wise, this ancient temple is simply unlike any other temple experience you will have. It is a must-see.
A large, wooden statue of a 1000-armed Kannon (Senju Kannon) sits in the centre of the hall, flanked on each side by 500 statues of human sized 1000-armed Kannon standing in ten rows. It is an awesome sight.
Historically, this is one of the most significant temples in Kyoto, which is a big statement to make. For you feudal age history buffs, it was built by the great warlord Taira-no-Kiyomori (of Tale of Genji fame) in 1164 and it was the site of one of the most famous duels in Japanese history featuring the notorious Musashi Miyamoto.
Getting to Sanjusangendo:
Sanjusangendo is located next to the Hakubutsukan-Sanjusangendo-Mae bus stop (10 minutes, ¥230 from Kyoto Station by bus numbers: 100, 206 or 208
Or a five-minute walk from Shichijo Station on the Keihan Line. Alternatively, it takes about twenty minutes to walk there from Kyoto Station.
Hours:
8:30 to 17:00 (April 1 to November 15)
9:00 to 16:00 (November 16 to March 31)
Admission ends 30 minutes before closing time.
open 7 days
entry: ¥600
Kiyomizudera 清水寺
Kiyomizu-dera, literally "Pure Water Temple" is another must-see and one of the most celebrated temples in Kyoto. The temple was founded in 778 CE with buildings dating the 17th century.
In particular its main hall designated is designated a National Treasure houses the temple's primary object of worship, a small statue of the eleven faced, thousand armed Kannon.
But doubtless, it is the outstanding panoramic view of Kyoto across a sea of cherry and maples from the temple's wooden stage, built without the use of nails, that the temple is most famous for.
Or drink the sacred water filled with good karma at the Otowa no Taki waterfall, from which the temple derives its name.
You can spend an hour or so easily wandering the paths winding through the beautiful gardens of what sometimes might seem to be ever expansive temple precinct, visiting the pagoda of Kiyomizu-dera's sub-temple, Taizan-ji Temple, created for the worship of the Koyasu Kannon (Senju Kannon/ thousand-armed Kannon).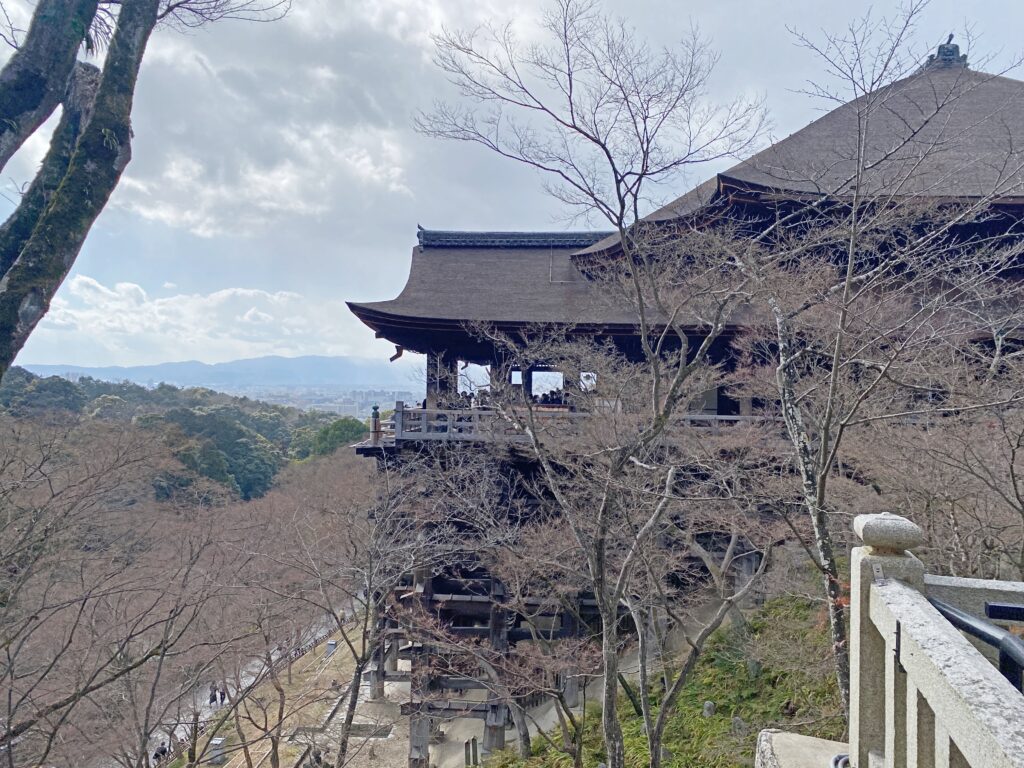 This particular temple is also known as the Pagoda of Safe Childbirth – well-known as a place to pray for a safe childbirth and healthy childbirth.
Follow the route from the pagoda downhill to arrive at Otowa Waterfall.
There are two main routes to arrive there I recommend a stroll up a Chawan-zaka road lined with ceramics stores.
Leaving, you might like to wander through the Omotesando (pilgrim's road) flanked by souvenir stores, cafes, and Japanese traditional wagashi sweets stores.
Or along the way down, divert and take one of the exits to the old cobblestone streets of Ichinenzaka, Ninenzaka, and Sannenzaka, sloping streets, lined with typical classical Kyoto style buildings. This route along the Higashiyama Walk will lead you to nearby Kodaiji Temple and eventually arriving at Yasaka Shrine at the east end of the Gion District.
Opening Hours: 6 AM to 6 PM with some days closing at 6.30 PM depending on the season.
During the special night viewing periods, the gate is closed once at the ordinary closing time and later re-opened. For details visit Kiyomizudera official site.
Entrance fees: ¥300 for adults
Nishiki Market 錦市場
Nishiki Ichiba, literally "brocade market") is the main marketplace in Kyoto, its roots going back as early as the late 8th century CE. Rich with history and tradition, it is Kyōto's largest traditional food market and is renowned as the place to obtain many of Kyōto's famous foods and goods.
It's located in downtown Kyōto on the east end of Nishikikōji Street, one block north and parallel to Shijo Street (四条通, Shijō-dōri) and west of Teramachi Street (寺町通, Teramachi-dōri). It stretches approximately 400 metres culminating at Nishiki Tenmangu Shrine, a nice quiet respite from the bustle of the market.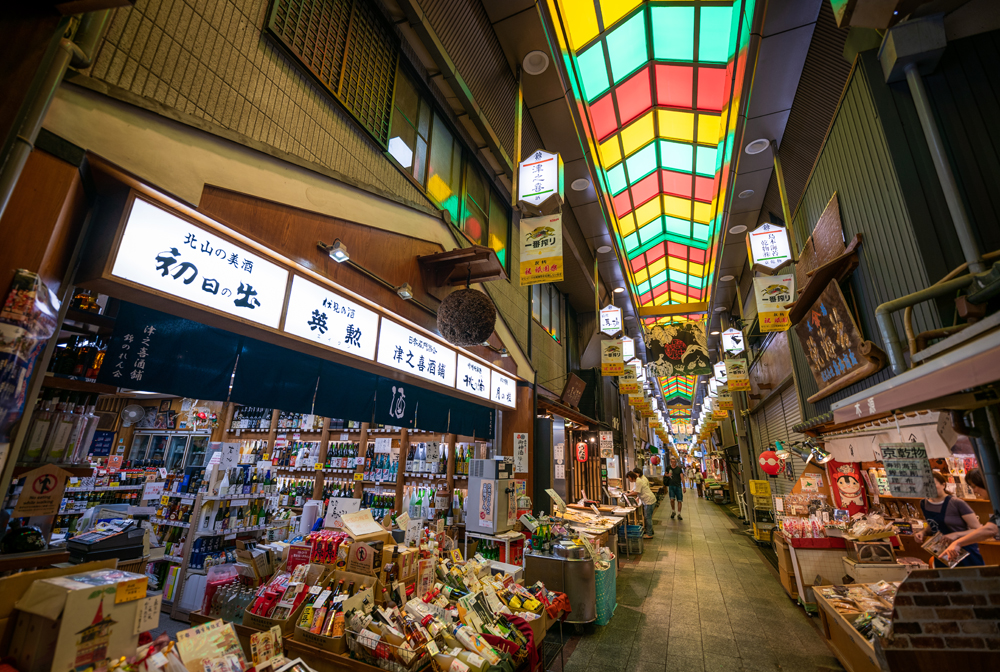 The market's origins lay as a quasi-fish market in the 8th century CE, thanks to the cold groundwater available at the site, which made it possible to keep fish and other meats fresh in a location close to the Kyoto Imperial Palace.
While modern food shops and souvenir shops are starting to move in, there are still enough traditional shops to give you a glimpse of what a traditional shotengai (shopping street) must have looked like.
One excellent example is Aritsugu, founded in 1560 by Aritsugu Fujiwara, a master swordsmith. It is famous for its hand-crafted knives, where a purchased knife with the name of its intended owner makes a fine souvenir or gift engraved in phonic script
KInkaku-ji (金閣寺, Golden Pavilion)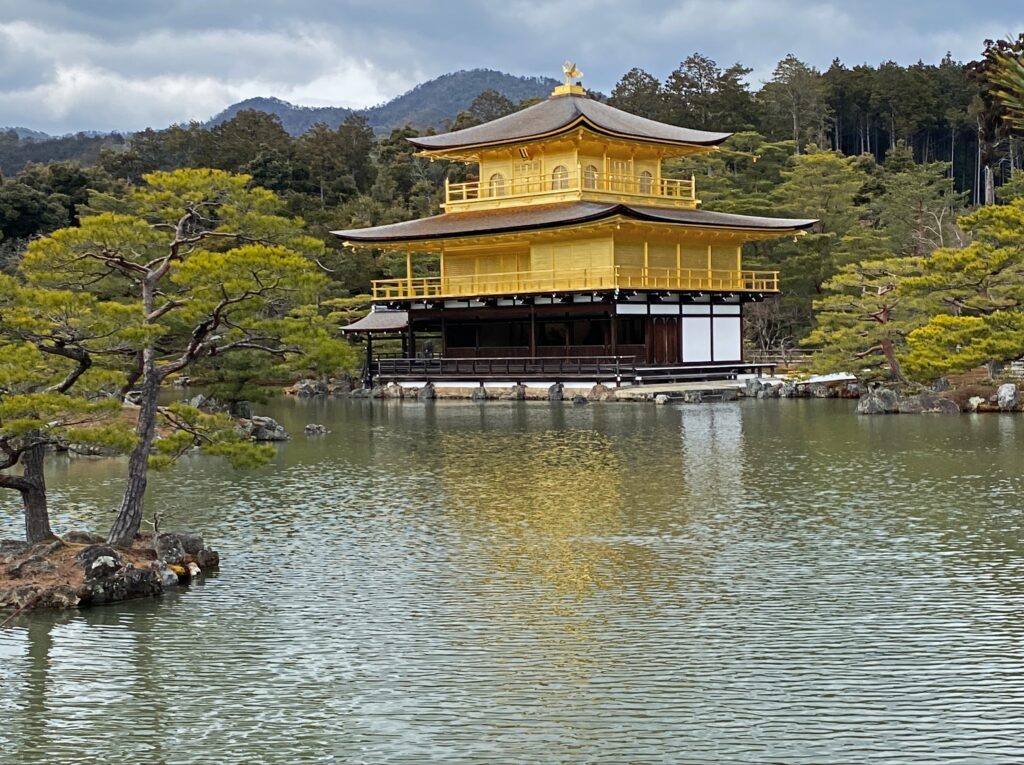 Formally known as Rokuonji, it is now a Zen temple built as the retirement villa of the shogun (Ashikaga Yoshimitsu) in the 14th century. It became a Zen temple of the Rinzai sect after the shogun's death, in accordance with his will at the beginning of the 15th century.

Kinkakuji was the inspiration for the similarly named Ginkakuji (Silver Pavilion), built on the other side of the city, in the Higashiyama District a few decades later.
Kinkakuji has been burnt down three times most recently in 1950 by a fanatical if not disturbed monk. This story was immortalised by the enfant terrible Yukio Mishima in his novel The Temple of the Golden Pavillion.
The path from the viewing ground passes by the pond and around behind Kinkakuji Temple and then leads through the temple's gardens which have retained their original design from Yoshimitsu's days. The garden path leads you up to the Sekkatei Teahouse, added to Kinkakuji during the Edo Period before you exit the paid temple area.
Outside the exit are souvenir shops, a small tea garden where you can have matcha tea and sweets (¥500), and Fudo Hall, a small temple hall that houses a statue of Fudo Myoo, one of the Five Wisdom Kings and protector of Buddhism. The statue is said to be carved by Kobo Daishi, one of the most important figures in Japanese religious history.
ARCHITECTURAL and DECORATIVE ELEMENTS
It is not possible to enter the pavilion. The top two floors are completely covered in gold leaf.
The structure comprises three architectural styles:
Here following is a summary of the architectural style but for more information please check out the above link.
The first floor is built in the classical Shinden style used for palace buildings during the Heian Period, and its natural wood pillars and white plaster walls contrast yet complement the gilded upper stories of the pavilion.
Statues of the Shaka Buddha (historical Buddha) and Yoshimitsu are stored in the first floor.
The statues can be viewed from across the pond if you look closely, as the front windows of the first floor are usually kept open.
The second floor is built in the Bukke style another classical used in samurai residences and has its exterior completely covered in gold leaf. Inside is a seated Kannon Bodhisattva surrounded by statues of the Four Heavenly Kings; however, the statues are not shown to the public.
The third and uppermost floor is built in the style of a Chinese Zen Hall and is gilded inside and out. The roof is crowned with a golden phoenix.
How to Get there:
From JR Kyoto Stn. Bus Stop B3: get a #205 bus approx. 30-min. ride as far as Kinkakuji-michi stop. From there it is a 3-min. walk
Open 7 days year-round. 9:00 AM to 5:00 PM
entry: ¥400
**the Kinkakuji Temple entry ticket is an oblong piece of paper on which is written Kanji script. It is intended as a good luck talisman. It's a nice piece of calligraphy and, large enough to be framed, also makes a lovely souvenir.

Kennin-ji 建仁寺
Kennin-ji is a historic Zen Buddhist temple in Kyoto, Japan, located in the Gion district and at the end of Hanami-koji Dori, which is the heart of the Geisha entertainment district and an interesting area to wander around.
However, its importance lies in the fact that it is the head temple of its associated branch of the Rinzai school of Zen Buddhism. It is considered to be third in rank of the so-called Kyoto Gozan or "five most important Zen temples of Kyoto" (and thereby, conceivably, Japan. It is reportedly the oldest Zen temple in Kyoto.
The temple was founded by a venerable monk known as Eisai, the Buddhist monk credited with introducing both Zen Buddhism and tea cultivation (the tea bushes lining paths and encircling the main buildings are a nod to this fact) to Japan from China.
The temple was constructed in 1202 and consists of several large halls and gates with about two dozen smaller buildings arranged around them.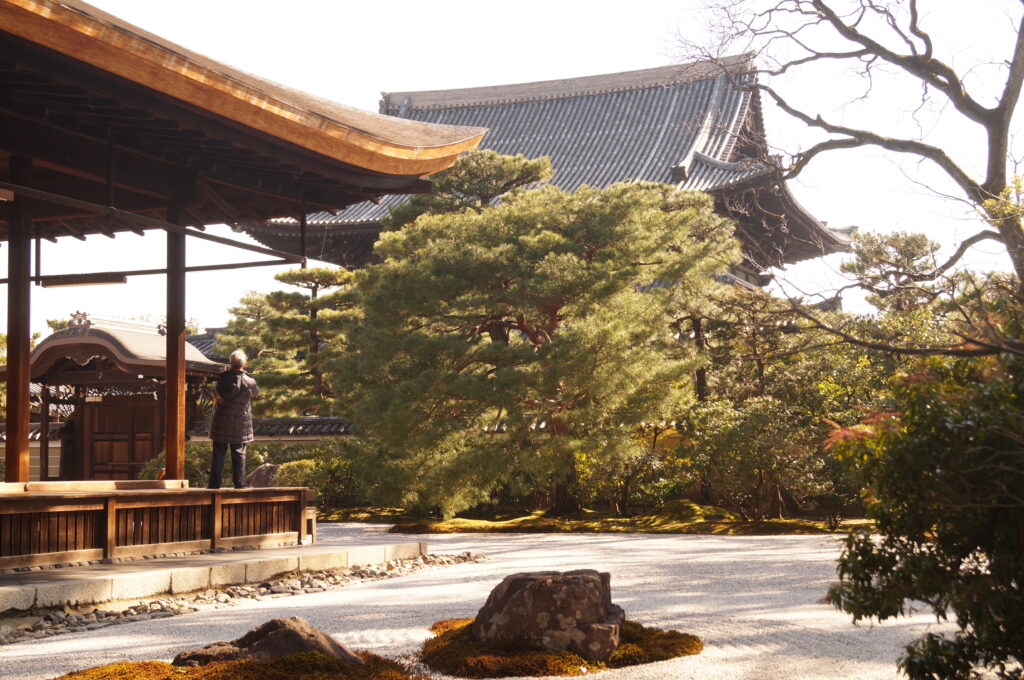 Most of the temple grounds are open to the public; although there is an entrance fee for the main buildings at the complex' centre. Inside, you can explore the interior of the main buildings and enjoy a variety of gravel and moss gardens.
You should also seek out images of dragons painted on the interior sliding doors and a gilded folding screen adorned with one of the most famous images of the Fujin (wind god) and Raijin (thunder god) to admire.
There is another particularly visually striking artwork is the ceiling mural of twin dragons on the ceiling of the Dharma Hall. This was painted onto rice paper and then papered onto the ceiling – in itself a spectacularly difficult task to even imagine let alone carry out.
Open 7 days all year-round 10:00 AM to 5:00 PM
Entry: ¥600
Arashiyama 嵐山
Arashiyama is located in the far north of the city metropolitan area and it is a nationally designated Historic Site and Place of Scenic Beauty. Its main attractions are the sublimely beautiful Tenryu-ji temple and gardens and the Bamboo Forest. It all has a monkey park where you can interact with wild macaques.
Tenryu-ji Temple 天龍寺
This is (to my mind) the headline attraction in Arashiyama. It is a sprawling Zen temple complex with one of the finest gardens in Kyoto and wonderful mountain views.
Founded in the14th-century CE, Tenryu-ji is the head temple of its own school within the Rinzai Zen sect of Japanese Buddhism and it is ranked first among the city's five great Zen temples, and is now registered as a world heritage site.
Tenryu-ji Temple is the logical first stop for any exploration of Arashiyama. I would recommend you start by exploring the main hall and observing the famed garden and pond from inside the hall, then you put your shoes back on and explore the garden on foot.
Tenryu-ji is particularly famous for its beautiful garden, Sogenchi Tei-en, designated as Japan's first Special Historical Scenic Spot, and you'll understand why when you see each season's unique scenery.
You can't help but notice that this is one of the best examples of shakkei (borrowed scenery) in Japan: the steep mountains of Arashiyama form are perfectly incorporated into the design of the garden. You can enjoy a pleasant stroll through and it will lead you right up to a midway point along the Bamboo Walk.
8:30 AM-5:30 PM, last entry 5:30 PM, March 21st-October 20th
8:30 AM-5:00 PM, last entry 5:00 PM, October 21st-March 20th
Entry
Garden:
Adults and College and High school students: ¥500
Junior high and elementary school students: ¥300
Temple Hall : ¥500
*Open 9:00 AM-5:00 PM (9:00 AM-4:30 PM; October 21st-March 20th)
Bamboo Forest Walk 竹林の道
The Arashiyama bamboo grove is this world-famous, seemingly endless forest of swaying bamboo boughs is perfect for a relaxing retreat to nature during a stay in Japan. The surrounding Arashiyama district, known for cormorant fishing, is also well worth a visit.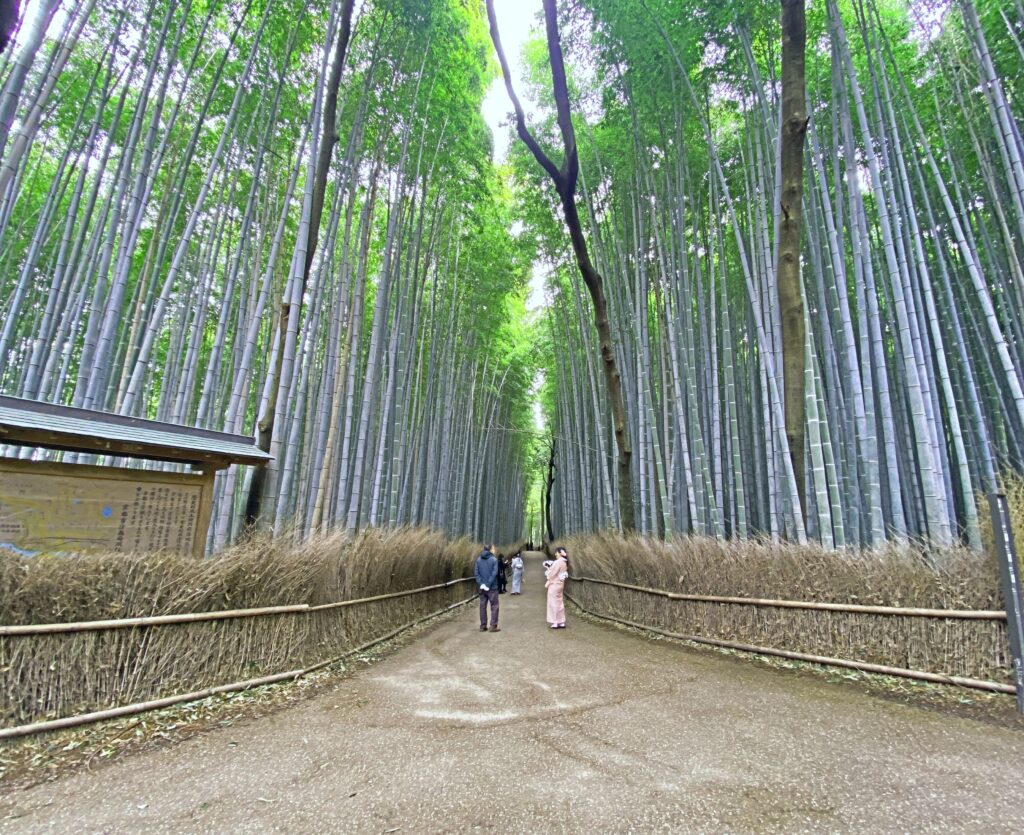 At the top end of the bamboo Forest walk to your right, you'll notice a driveway leading up into the hill. It is access to:
Ōkōchi Sansō (大河内山荘/ Okochi Mountain Villa)
This is the former home and garden of the Japanese jidaigeki (period film) actor Denjirō Ōkōchi. The villa is open to the public for an admission fee and is known for its gardens and views
A few other things to do at Arashiyama:
Kimono Forest
One of the most popular spots for young couples or young ladies in their kimono finery to visit in Arashiyama, especially for some great social media snaps! It is a part of Arashiyama Tram Station.
There are rows of upright poles covered in brilliant colours of Kyo-yuzen, or cloth dyed using the traditional Kyoto technique. Design concept is to resemble tress dressed in kimono! Hence the name, Kimono Forest A nice backdrop for your next Instagram photo?
Arashiyama Monkey Park Iwatayama
Located on a mountain that is home to about 120 wild Japanese macaques. If you climb the 120-step staircase, the path becomes a less rigorous uphill course. It takes about 20 minutes to reach the summit, where you can see the Japanese macaques.
Coffee
There are lots of nice cafes in Arashiyama where you can sit back and relax. Yojiya Cafe is super popular for its coffee and its Japanese interior design, featuring an atrium and a garden.
Or recharge at Arabica Kyoto located on the north side of Togetsukyo Bridge. The stylish building has been renovated from an old-fashioned Japanese home
How to get to Arashiyama:
From Kyoto Station, take the JR San-in or Sagano lines (included in your JR Pass) to Saga-Arashiyama Station. The train ride lasts approximately 20 minutes. You can also get there by bus or there is tram service but I recommend getting directions for that from Kyoto Tourist Information Centre.
Nijo Castle 二条城
Nijo Castle is one of the seventeen Historic Monuments of Ancient Kyoto which have been designated by UNESCO as a World Heritage Site. It was the residence of the Tokugawa Dynasty in Kyoto.
All the feudal lords in Western Japan were obliged to contribute to the construction of Nijō Castle. The Ninomaru Palace served as the residence and office of the shogun during his visits to Kyoto. Surviving in its original form.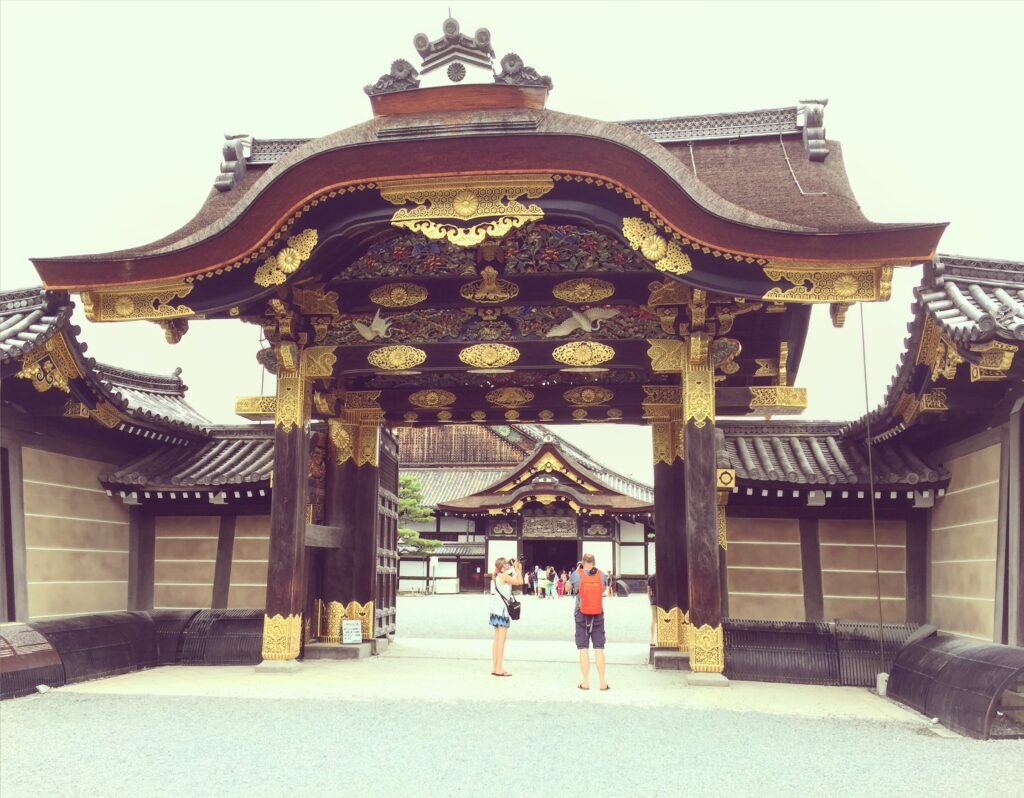 The palace consists of multiple separate buildings that are connected with each other by corridors with so called "nightingale floors" that squeak when stepped upon as a security measure against intruders.
The palace rooms are tatami mat covered and feature elegantly decorated ceilings and beautifully painted sliding doors (fusuma).
Access:
From Kyoto Station: Karasuma Subway Line to Karasuma-Oike Station
Tozai Line to Nijojo-mae Station. 15 minutes / ¥260
Kyoto City Bus numbers 9, 50, or 101 (15-20 minutes, ¥230 one way)
Hours
8:45 AM – 5:00 PM (admission until 4:00 PM) / entry to Ninomaru from 9:00 to 16:00
Closed on Tuesdays in January, July, August, and December (or the following day if Tuesday is a national holiday), December 26 to January 4
Entry:
¥600 (from April 2019, an additional 400 yen will be charged for admission to the Ninomaru Palace)
Ginkaku-ji 銀閣寺 (Silver Pavilion)
In the late 15th century CE, shogun Ashikaga Yoshimasa, grandson of the shogun who had built Kinkaku-ji (Golden Pavilion), built his own retirement villa on the grounds of today's temple in the East Mountains of Kyoto (Higashiyama) and modelled it after his grandfather's retirement villa. This villa was like-wise converted into a Zen temple after Yoshimasa's death in 1490 and became a centre for the development of the arts at that time which include the tea ceremony, flower arrangement, Noh theatre, poetry, garden design, and architecture.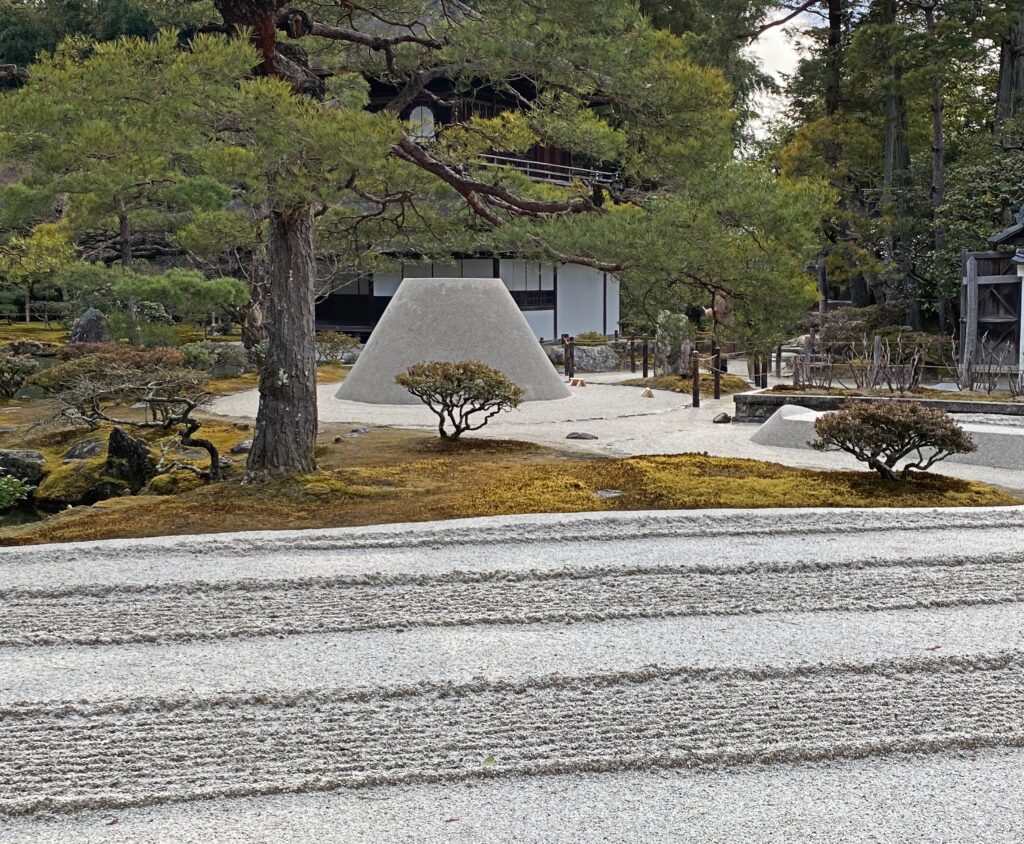 The temple complex comprises the Silver Pavilion, half a dozen other temple buildings, a sublime moss garden and a quite unique dry sand garden. Following the path that circulated through the landscaped garden gives the wonderful opportunity to view the pavilion and its buildings and the ground as a whole.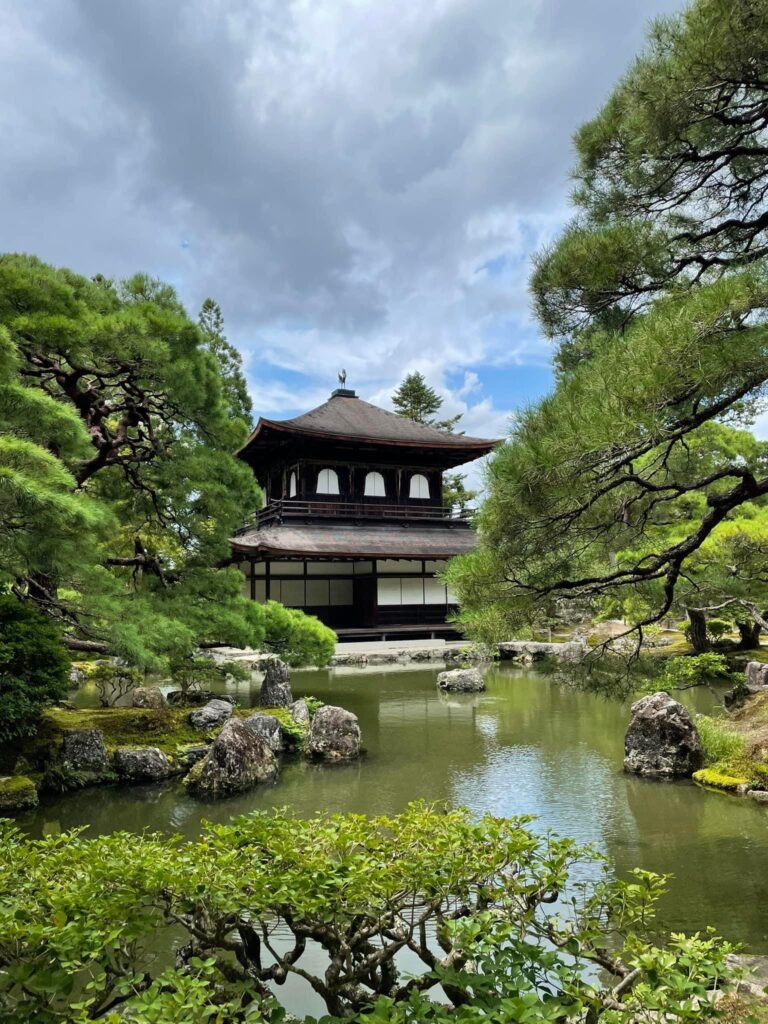 No one really knows why it is labelled the Silver pavilion; one theory is that earned the nickname much later to contrast it with the Golden Pavilion. An alternate theory is that perhaps, once upon a time, in the moonlight it took on a silver glow.
Open 7 days all year-round
8:30 to 17:00 (March to November)
9:00 to 16:30 (December to February)
Entry ¥500
After you leave Ginkaku-ji you might enjoy a stroll:
Philosopher's Walk
The Philosopher's walk, 哲学の道 / Tetsugaku no Michi, is a lovely sight-seeing walk in Kyoto that stretches for around 2 kilometres along the Lake Biwa Canal starting at the access to Ginkakuji.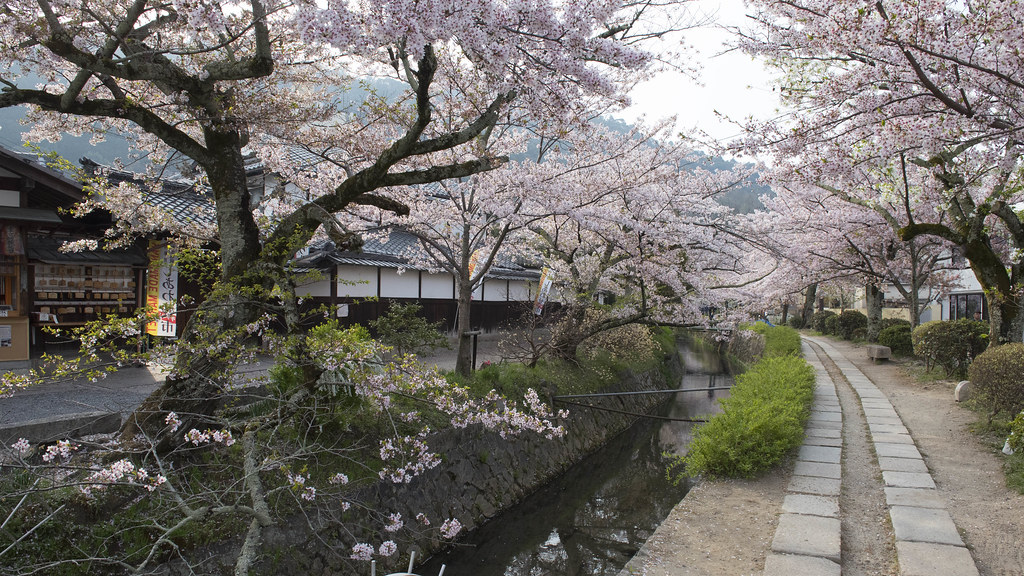 It takes its name from a walk that was frequented asa meditative experience
Used by Kyoto University professor and influential 20th-century Japanese philosopher Nishida Kitaro.
Nowadays, it is well-known as a popular sakura (cherry blossom) and Koyo (autumn colours) viewing location.
The Philosopher's walk also passes by some of the many lovely shrines and temples , many of which are just a short stroll from the canal and an easy diversion and dotted with as a number of charming restaurants and cafés along the way.
It will point you to Nanzen-ji with its massive gate you can climb up into!
It takes about 30 minutes to complete the walk, although many people spend more time visiting the sights along the way. On the northern part of the walk, there are good views of the nearby Daimonji.
Gion 祇園 / Ponto-cho 先斗町
Gion
I imagine that many, if not most people with any kind of familiarity with Japan have heard of Gion as it is almost synonymous with Kyoto; Not least being the historic Gion Festival, epitomised by its procession of towering floats and arguably the most famed festival in Japan.
Gion, with its shrines, beautiful temples, and picturesque streets, maiko meeting places, and local eateries that are perfect for whiling away the hours, is one of the places where one can immerse in the atmosphere of traditional Kyoto.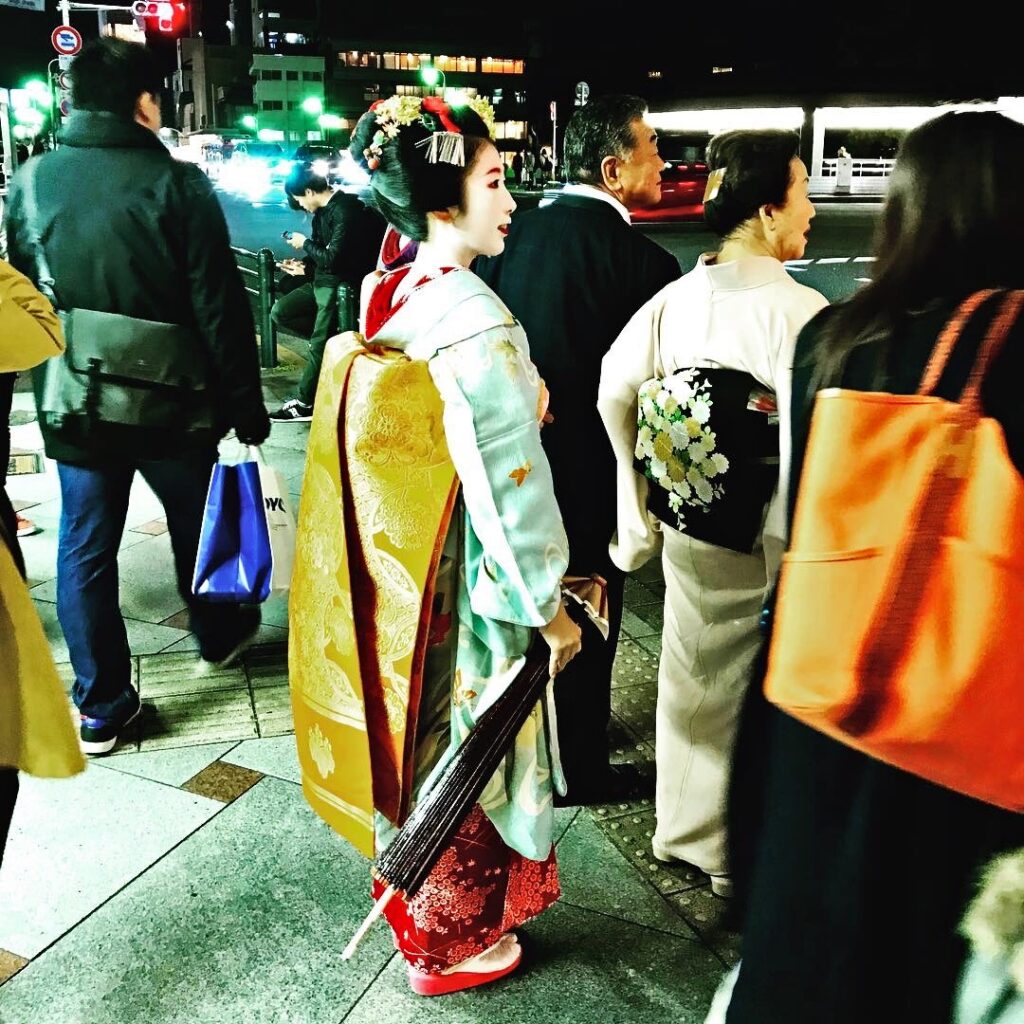 It is chiefly and historically the entertainment district, a collection of smaller Hanamachi, with hostesses in colourful kimonos, often sighted on the wooden Tatsumi Bridge, or amid upscale Japanese restaurants and boutiques on Hanamikoji Street, or Ponto-cho alley.
Gion enjoys an almost mesmerisingly lively nightlife, one that ranges from quiet sake bars to buzzing, pub-like izakayas. Its roots trace back to the Edo Period catering to the many pilgrims attending the already ancient Yasaka Shrine and the many temples such as Kennin-ji Temple.
If you're keen to see one of the Maiko shows (I have seen several and they really are a spectacular almost mesmerising experience!). There are several venues offering access but perhaps the simplest way to admire Maiko shows for overseas tourists is to go to one at Gion Corner, probably the most well-known venue.
Ponto-cho
Ponto-chō is considered to be the single most atmospheric of the hanamachi in Kyoto. Known for its geisha and maiko, it is arguably the single most atmospheric street in all of Kyoto.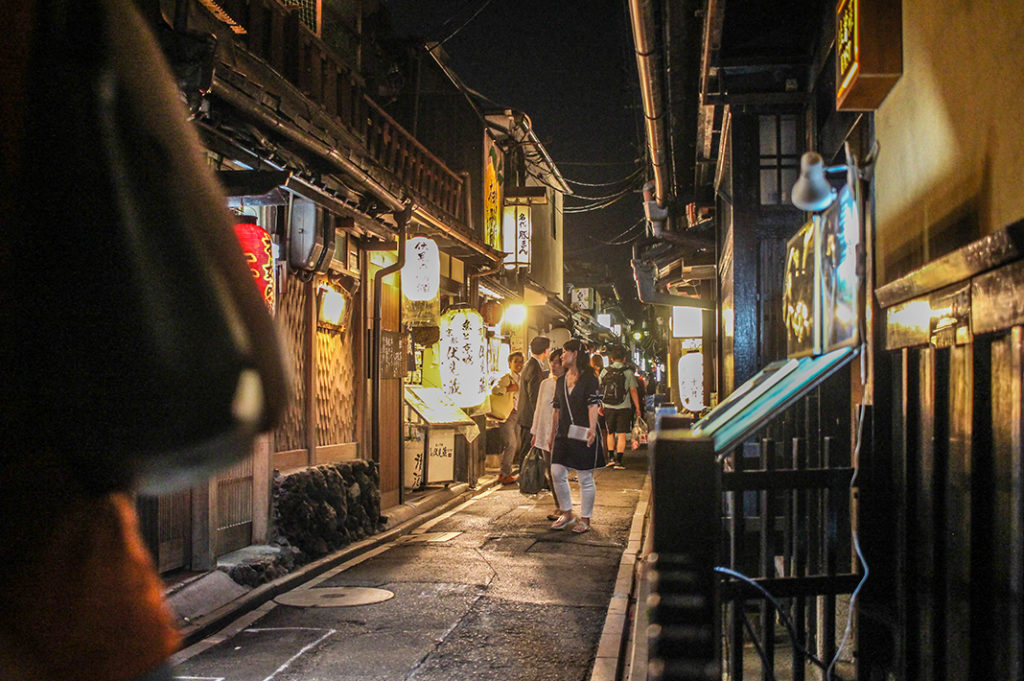 Thereby, it is home to many of the city's okiya (Maiko Training houses) and traditional tea houses. Like Gion, Ponto-chō is famous for the preservation of forms of traditional architecture and entertainment.
It centres on Ponto-cho Alley, which runs parallel to the west bank of the Kamo-gawa River between Sanjo and Shijo. It is just that, a narrow alleyway but lined with traditional shops and restaurants, and all kinds of bars, and where no cars, modern buildings or gaudy signs are allowed.
Frankly, by day it's not really much to look at, but at night it is arguably the most beautiful street in the city when comes alive with an almost magical ambience.
For visiting foreigners without the right connections, many of the restaurants and clubs here will seem pretty forbidding but there are plenty of places that welcome foreigners and have English-language menus and English-speaking staff.
Thanks for reading! 🙇
But wait! There's more! I mentioned above a change of pace…
Why not break up your stay with the best day and overnight trips out of Kyoto? See my soon-coming blog: The Best Day and Overnight Trips from Kyoto.
Also, I'd like nothing better than to share my town with you: Check out my reviews and testimonials and do look at the wonderful described in my private tours list for individuals or small groups.